Eugene H. Steele, Esq., Of Counsel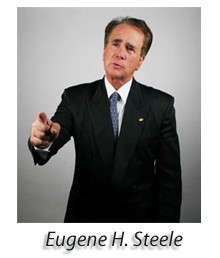 Eugene H. Steele is a 1968 graduate of University of Miami where he received his Bachelor of Business Administration in Finance/Insurance.  He obtained his juris doctorate in 1972 from the Florida State College of Law.  He is admitted to the Bar of the State of Florida and inactive in three other bars.  He is admitted to practice before the United States Supreme Court, the Federal Southern and Middle District Courts of Florida, District Courts Virginia, Ohio and all Circuit and County Courts in Florida.  The Public Service Commission, Court of Claims, U S Tax Court, U. S. Customs Court.
Mr. Steele begin his trial career as a law student having tried to a verdict criminal jury trials for the Public Defender's Office of Leon County.  After graduation, he was selected to be one of seven trial attorneys to represent the government in major air crash cases throughout the United States as an FAA Trial Attorney.  After leaving Washington D.C., he represented insurance carriers in aviation defense, then joined a major defense firm defending auto and general liability cases obtaining very favorable results.  He continued his representation in construction matters medical malpractice and professional liability.  In addition, he is a certified Arbitrator and is an NASD and NFA industry arbitrator having held most federal security licenses including stocks and commodities.
Mr. Steele also prosecutes and defends first party and third party coverage matters.  He has experience in monitoring complex matters for excess insurance carriers.
Mr. Steele brings a unique combination of litigation, business and life experience to the firm.  He is a member of MENSA.
Previous Experience
Law Student: Public defender – Criminal Trials – Attempted Murder, Burglary, various other crimes tried.  Appeals argued and briefed.
Assistant Attorney General – Tax opinion published.
Legal Aid: filed the first Dissolution of Marriage petition in Florida under no fault.
EDUCATION & PROFESSIONAL DEVELOPMENT
Legal
Florida State College of Law, Tallahassee, FL – Juris Doctorate
University of Miami School of Law, Washington D.C. – International Law
George Washington Law, Washington D.C. – Corporations
American University – Labor law
University of Miami, Coral Gables, FL – Bachelor of Business Administration (Major: Finance/Insurance)
Aviation
United Airline Flight School, Denver, CO – 747,737,777,727 Boeing, Cessna
Kendall Flying School, Tamiami, FL – Helicopters, Gliders, Aircraft, Instructor
International Medical and Dental –  Hypnotherapist, Forensic hypnotist
Bar admissions: Florida Bar, inactive Virginia, Ohio, District of Columbia
Trial attorney, Litigation Division, Federal Aviation Administration (1972-1973);
United Airlines Pilot ,B-747, B-727, B-737; Air Transport Pilot (ATP) Airplane Multiengine Land, CE-500 Cessna Citation, Commercial Privileges, Airplane single engine land & sea, multiengine sea, rotocraft-helicopter, glider; Flight Engineer, turbojet powered; Flight Instructor, airplanes, instrument and glider; Ground Instructor, instrument ground instructor;
Fraternity, Phi Alpha Delta Member; (University of Miami) 1975 School of Law Lecturer in Law, "Aviation Litigation" Associate Professor 1974 "Aviation Insurance" School of Business; Lawyer-Pilots Bar; Bar Association of Air Carrier Pilots;
Society of Air Safety Investigators; Aviation Insurance Association; Air Lines Pilots Association;
The Federal Bar Association; Broward County Bar Association; The Florida Bar; Virginia Bar (inactive), Ohio Bar (inactive) and the Bar Association of The District of Columbia; Member Florida Bar
Aerospace Law Committee; The District of Columbia Bar Committee on Aviation Accident Law; American Bar Association and Space Law Committee; American Trial Lawyers, Mensa, Professor Air Crash Investigation, Hypnotist
PUBLICATIONS
 "Plane Talking" Trial Magazine, March, 1976
"Airline Safety is Management" December, 1978
"Air Safety and Litigation in Conflict", December, 1978
"Secrets, Secrets, Secrets" December, 1978
"Caution, Airline Pilot Disability Insurance" 1991
Editor, The Binder, 1978.
Videos and book list provided on request.
MEMBERSHIPS
MENSA
Society of Air Safety Investigators
Aviation Insurance Association
Toastmasters
Lawyer-Pilots
University Aviation Association
Broward Bar – former chair, elder law
Federal Bar Association
Broward Estate Planning Counsel