Class Action Lawsuit filed against Tom Brady, Stephen Curry and other Athletes and Celebrities that Promoted FTX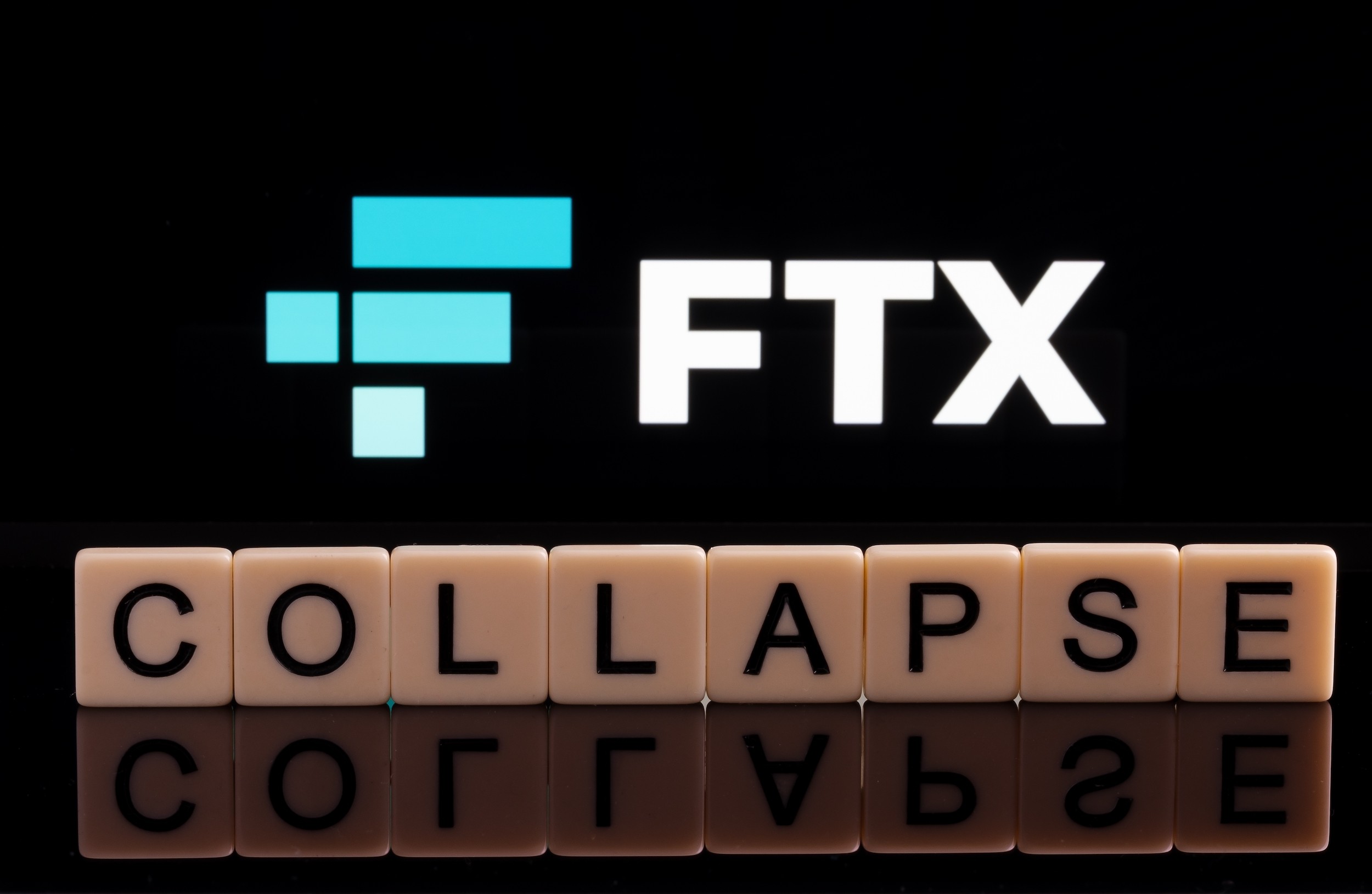 By now, most people have heard about the epic collapse of FTX. The crypto exchange founded by Sam Bankman-Fried ("SBF") was once the 3rd largest crypto exchange, with an estimated valuation of $32 billion, and is now in Bankruptcy, facing a flurry of allegations of illegal activities and misappropriation of customer funds. 
It all began on November 2nd when Coindesk reported that a leaked balance sheet showed that Alameda Research (SBF's trading firm for FTX) was full of FTX – specifically, the FTT token issued by the exchange, meaning SBF's trading giant Alameda rested on a foundation primarily made up of a coin that its sister company invented, not an independent asset like a fiat currency or another crypto. Further, it showed that Alameda held far more of the tokens than traded on the market, suggesting its stake would be hard to liquidate at current prices.
Then, on November 6th, Binance CEO Changpeng "CZ" Zhao said his company, the largest crypto exchange, planned to sell its FTT holdings, which dated back to an early investment by Binance in FTX.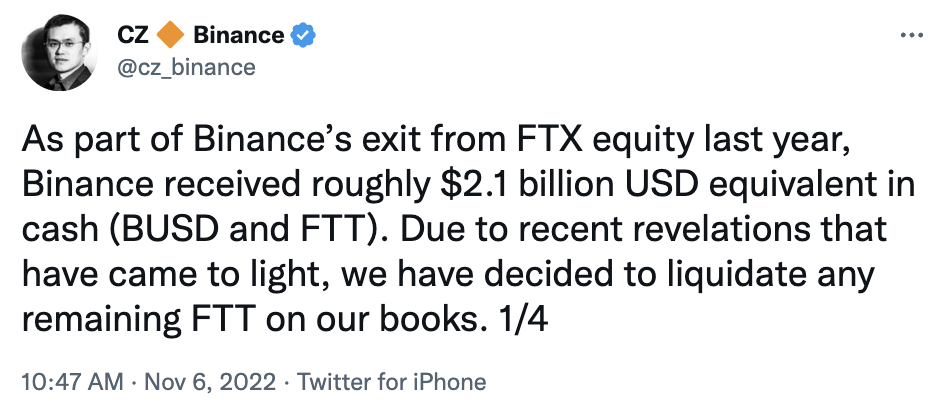 The liquidation of Binance's FTT holdings caused the value of the FTT token to begin to crash.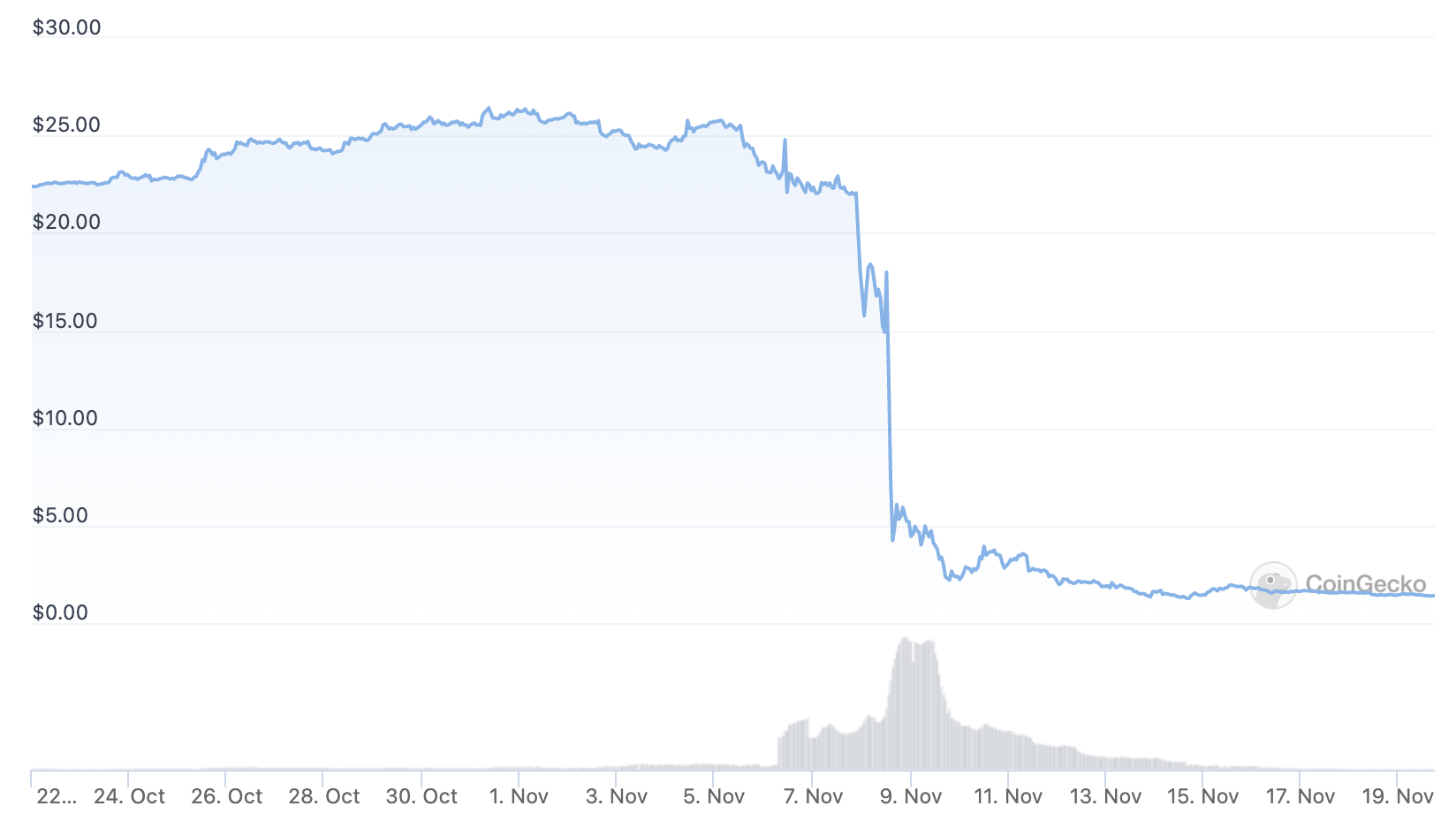 On November 8th, FTX stopped paying back its customers, the first significant sign of something major wrong with the exchange. Binance reportedly offered to come to the rescue, signing a Letter of Intent to buy FTX, which was suffering a "significant liquidity crunch".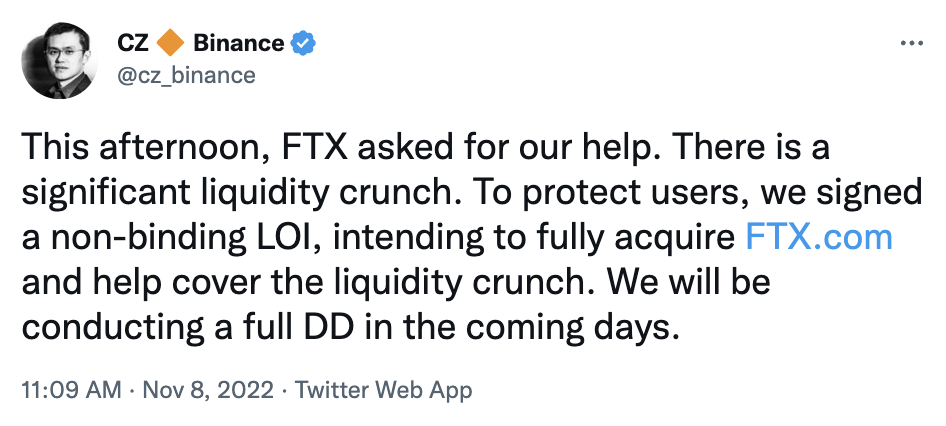 FTT plummeted another 75% after CZ revealed his takeover plan.
The next day, on November 9th, it was reported by the WSJ that the Securities and Exchange Commission (the "SEC") and the Department of Justice (the "DOJ") were investigating FTX's relationship with sister entities Alameda Research and FTX US, as well as allegations that the company mishandled customer funds.
All this led Binance to back out of its offer to buy FTX after a "corporate due diligence" review revealed issues in FTX's financial situation that Binance said were "beyond our control or ability to help."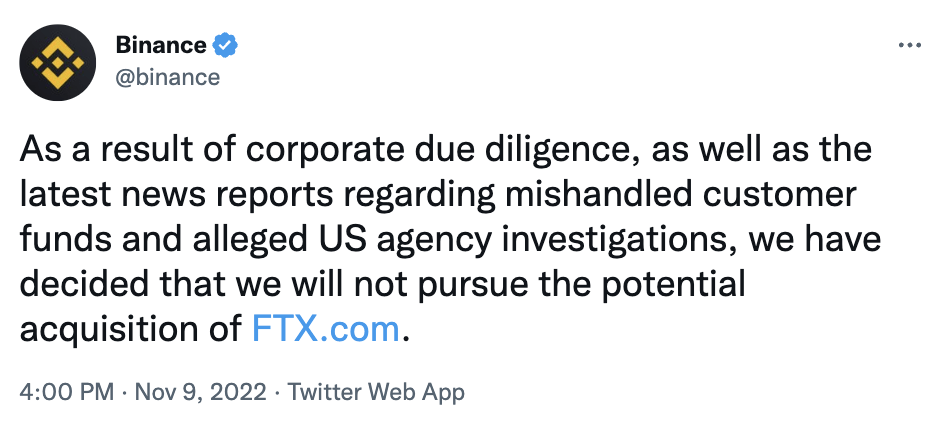 On November 10th, SBF announced that Alameda Research would wind down trading and admitted in no uncertain terms that he "fucked up" as part of a 22-part Twitter ramble. 

In the 22-part Tweet, SBF reassured Americans that FTX US "was not financially impacted by this shitshow" and was "100% liquid".

While SBF was trying to mitigate panic on Twitter, FTX was reportedly seeking billions in rescue funds from investors and was reportedly in talks to raise cash from rival exchange OKX and stablecoin issuer Tether.
Despite SBF's assurance that FTX US was isolated from the rest of the FTX chaos and would survive, on November 11th, SBF stepped down as the CEO, and FTX, Alameda Research, and roughly 130 affiliated companies (including FTX US) started bankruptcy proceedings.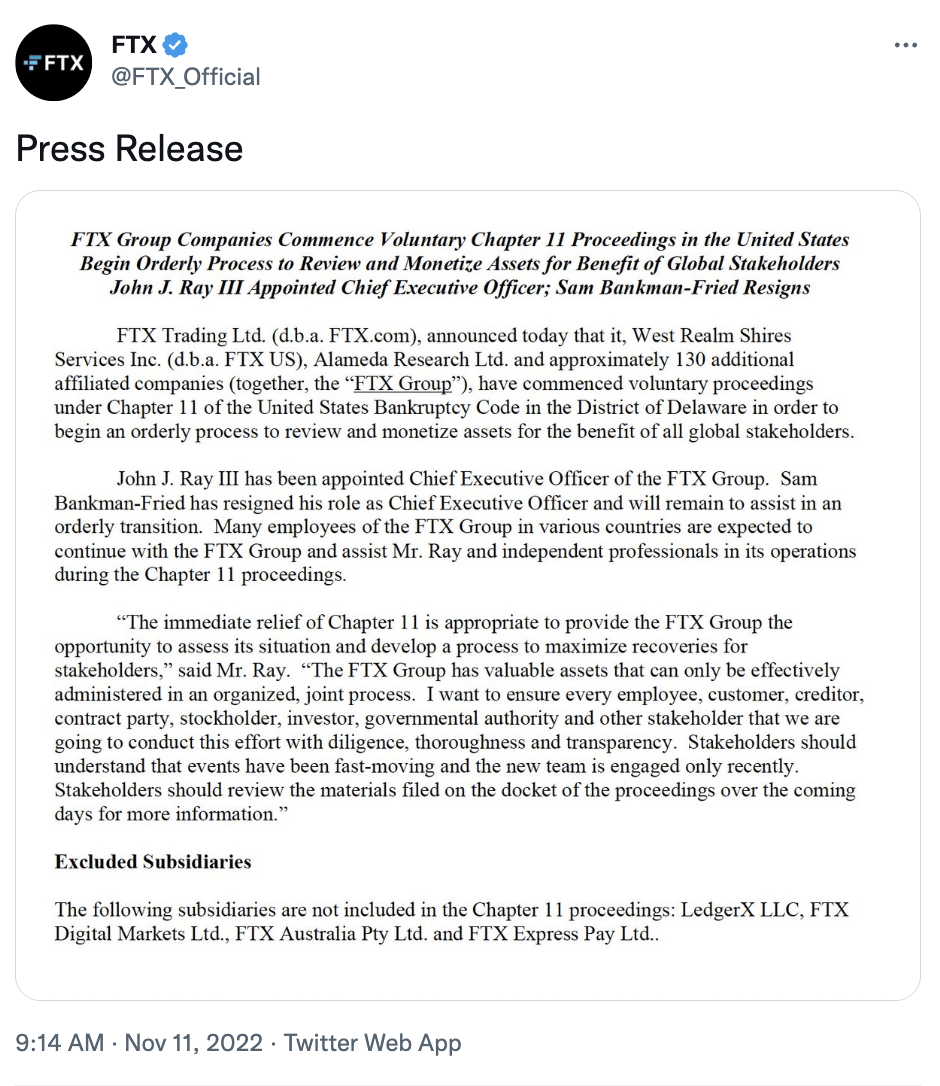 SBF was replaced by John J. Ray III, who had previously overseen the liquidation of Enron as the Enron CEO during its years in Bankruptcy.
On November 12th, things went from bad to worse when it was reported that over $1 billion in FTX funds had gone missing. According to those reports, after SBF illegally moved $10 billion of customer funds from FTX to Alameda Research, a large chunk (between $1 and $2 billion) vanished. The same day, there were also reports about $473 million in assets being moved out of FTX wallets in suspicious circumstances. To avoid future unauthorized transactions, Ryne Miller, general counsel for FTX, announced that the remaining assets would be moved to cold storage.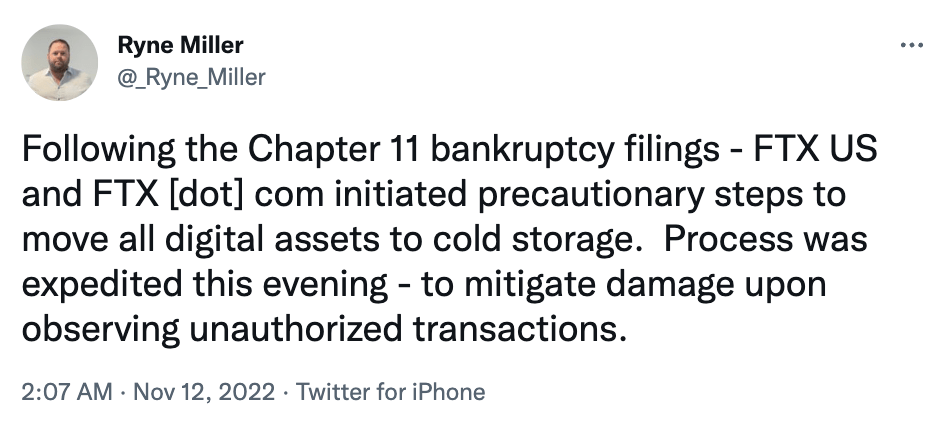 There were even reports about a "backdoor" intentionally created by SBF when the FTX platform was built that would allow SBF to take money from customer wallets and alter the company's books without anyone's knowledge.
On November 13th, according to Bloomberg, the police in the Bahamas, where FTX is based, said they are working with the Bahamas Securities Commission on an investigation of the company to determine if "any criminal misconduct occurred." It has been reported that SBF is under supervision in the Bahamas to avoid him fleeing to Dubai, where SBF allegedly believes he can avoid extradition should criminal charges be filed against him in the United States.
And the allegations of wrongdoing keep on coming. On November 15th, MSN published an article claiming that SBF (through Alameda Research) frontloaded nearly 60 Ethereum-blockchain-based tokens before the company's own clients could buy and sell them as a way to cheat to make more money.
But it isn't just SBF and his top FTX aids in hot water. As part of SBF's elaborate scheme to grow the FTX exchange and lure in investors, SBF befriended NFL superstar Tom Brady and recruited several big-name athletes and celebrities to promote FTX to the public.
Those athletes and celebrities have now been slapped with a class action lawsuit filed in the United States District Court Southern District of Florida Miami Division (case #1:22-cv-23753-KMM).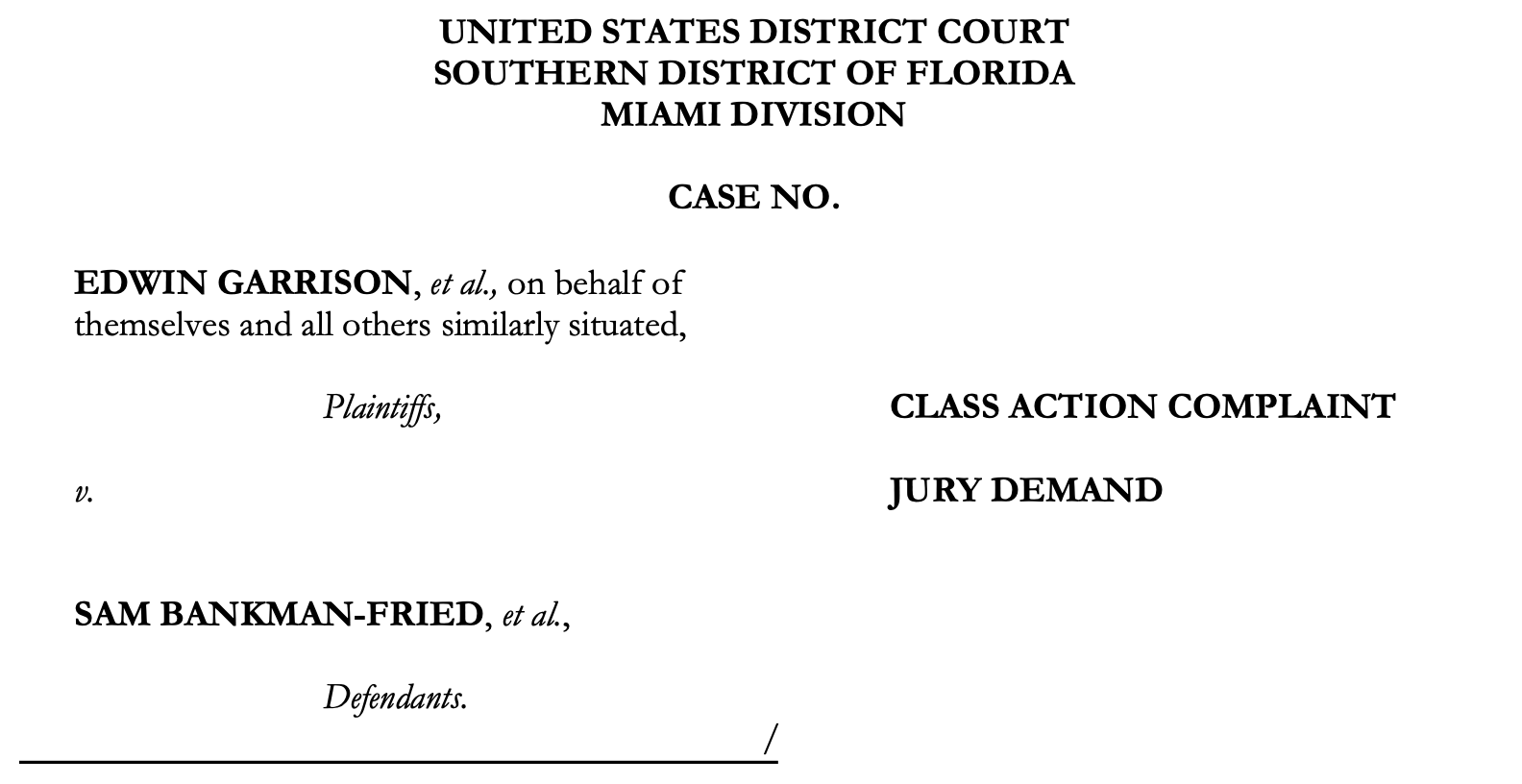 The class action names Sam Backman-Fried, Tom Brady, Gisele Bundchen, Kevin O'Leary, Udonis Haslem, David Ortiz, Stephen Curry, the Golden State Warriors, Shaquille O'Neal, William Trevor Lawrence, Shohei Ohtani, Naomi Osaka, Lawrence Gene David as defendants.
The suit accuses FTX of being run like a Ponzi scheme where the FTX Entities shuffled customer funds between their opaque affiliated entities, using new investor funds obtained through investments in unregistered securities in the form of yield-bearing accounts ("YBAs") and loans to pay interest to the old ones and to attempt to maintain the appearance of liquidity. The lawsuit also accuses the company of using some of the biggest names in sports and entertainment—like the Defendants—to raise funds and drive American consumers to invest in the YBAs, which were offered and mainly sold from the FTX Entities' domestic base of operations in Miami, Florida, pouring billions of dollars into the Deceptive FTX Platform to keep the whole scheme afloat.
The suit further accuses the defendants of not disclosing the nature, scope, and amount of compensation they personally received in exchange for the promotion of the Deceptive FTX Platform, which the SEC has explained that a failure to disclose this information would be a violation of the anti-touting provisions of the federal securities laws. In support of this argument, the complaint cites SEC action against Floyd Mayweather and music producer DJ Khaled after they were paid by cryptocurrency issuers to tweet promotional statements about investing in Initial Coin Offerings (ICOs) and against Kim Kardashian for failing to disclose payments she received for promoting cryptocurrencies. 
This action seeks to hold Defendants responsible for the many billions of dollars in damages they caused Plaintiff and the Classes and to force Defendants to make them whole.
The biggest name in the class action is arguably Tom Brady. Brady and his ex-wife, Gisele Bundchen, were huge supporters of and reportedly invested heavily in FTX to the tune of an estimated $45 – $70 million. But not only did they invest in FTX, but they also promoted it and were paid to do so as part of a $20 million ad campaign kicked off by FTX in 2021. Brady and Bundchen filmed a commercial called "FTX, You In?", showing them calling and telling all their acquaintances to join FTX
That Tom Brady commercial was followed by another Tom Brady commercial called "Tom Brady Wants a Trade", in which speculation runs rampant that Brady wants to be traded to a new NFL team, but it turns out that he just wants to trade crypto using FTX, which he calls the "safest and easiest way to buy and sell crypto".
There is now speculation in the press that when Brady took 11 days off from training camp in August,  he may have been in the Bahamas visiting SBF, receiving details about the brewing issues with FTX.  
Following Brady and Bundchen, several other athletes and celebrities jumped on board and started promoting FTX.
Arguably, the next most prominent name in the suit is Stephen Curry. Curry became a brand ambassador in September 2021, and participated in a nationwide ad campaign where the narrator repeatedly portrays Curry as a "crypto expert." The legendary player denies this over and over, finally saying, "I'm not an expert, and I don't need to be. With FTX, I have everything I need to buy, sell, and trade crypto safely."
Curry's employer, the Golden State Warriors, also jumped on board. Their partnership was announced in 2022, with the unveiling of the FTX logo on the court at the Chase Center. As the Warriors' Official Cryptocurrency Platform and NFT Marketplace, the franchise dropped NFTs on FTX.us beginning in early 2022. The partnership between the Warriors and FTX marked the first international rights partner for the Warriors, meaning the GSW and FTX had a visible market presence, inclusive of logo and likeness, internationally.
In November 2021, Udonis Haslem, a professional basketball player with the Maimi Heat, participated in an ad targeting the Miami market titled "You In, Miami?".
By this point, the Miami Heat basketball stadium had already been renamed to FTX Arena, with FTX acquiring the naming rights to the arena for $135 million in March 2021.
David Ortiz, a Major League Baseball hall-of-famer, also ran his own FTX "You In?" ad (found here), which began airing nationwide during the first game of the 2021 World Series. Ortiz is watching a game on the television when he receives a phone call from The Moon. Inspired by the "moon blast" home run scored on the field, The Moon frantically tells David about opportunities to get into cryptocurrency with FTX. David decides it's an offer he can't refuse and joins fellow sports stars Stephen Curry and Tom Brady on the platform.
Major League Baseball signed a sponsorship deal with FTX that results in the MLB umpires wearing FTX patches on their uniforms as part of an advertisement for the crypto platform starting with the 2021 all-start game and running through the 2022 season.
Kevin O'Leary, the Shark Tank star known as "Mr. Wonderful" (pictured with SBF below: source – the Class Action Complaint), made several public statements designed to induce customers to put their money into FTX.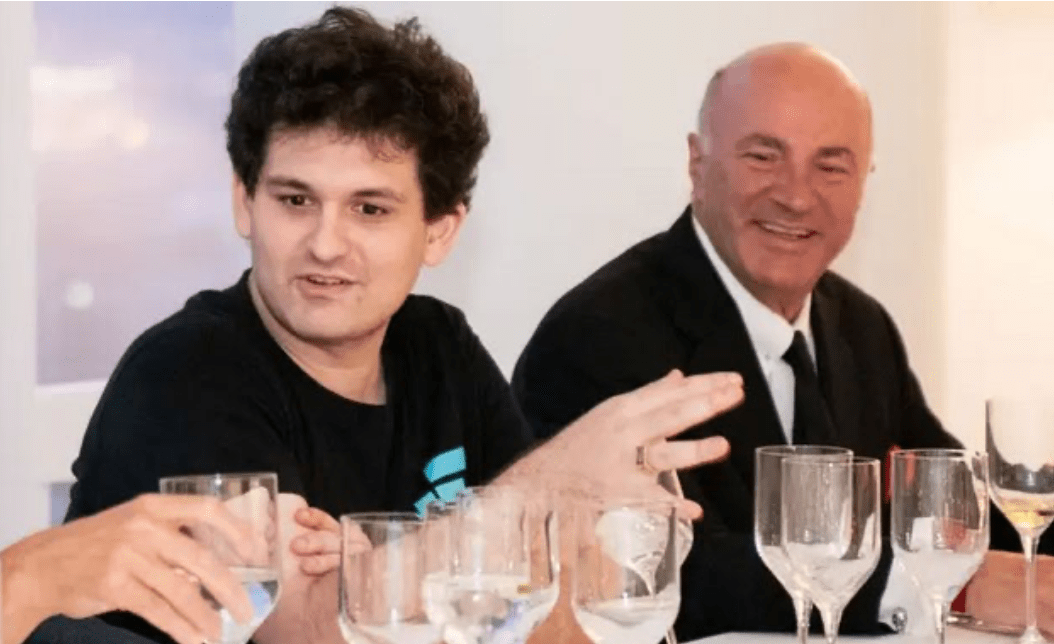 As recently as October 12th, 2022, O'Leary stated confidently (at the 17:32 mark in this video posted on O'Leary's youtube page) that FTX was totally compliant and a safe place to hold assets. O'Leary stated that: "I have to disclose I'm a paid spokesperson to a FTX and shareholder there, too, cause we mentioned him and I'm a big advocate for Sam because he has two parents, who are compliance lawyers. If there's ever a place I could be that I'm not gonna get in trouble it's going to be in FTX so you know that's there they're great people, but he gets the job in compliance which is why he's working so hard to get regulation."
Shaquille O'Neal, former professional NBA basketball star, sports analyst, and entrepreneur, also became an FTX ambassador, stating in a video posted on FTX's Twitter account that "I'm excited to be partnering with FTX to help make crypto accessible for everyone. I'm all in. Are you?"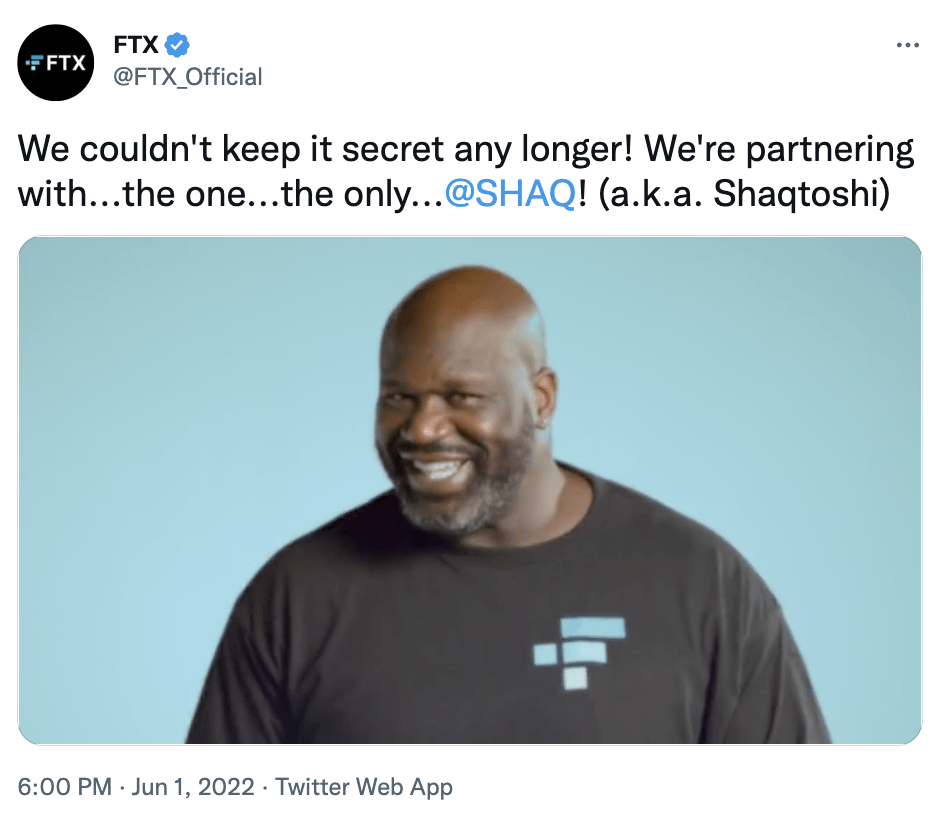 William Trevor Lawrence, the first pick in the 2021 NFL draft and now quarterback for the Jacksonville Jaguars of the NFL became a brand ambassador for FTX in exchange for unspecified cryptocurrency payments in April 2021.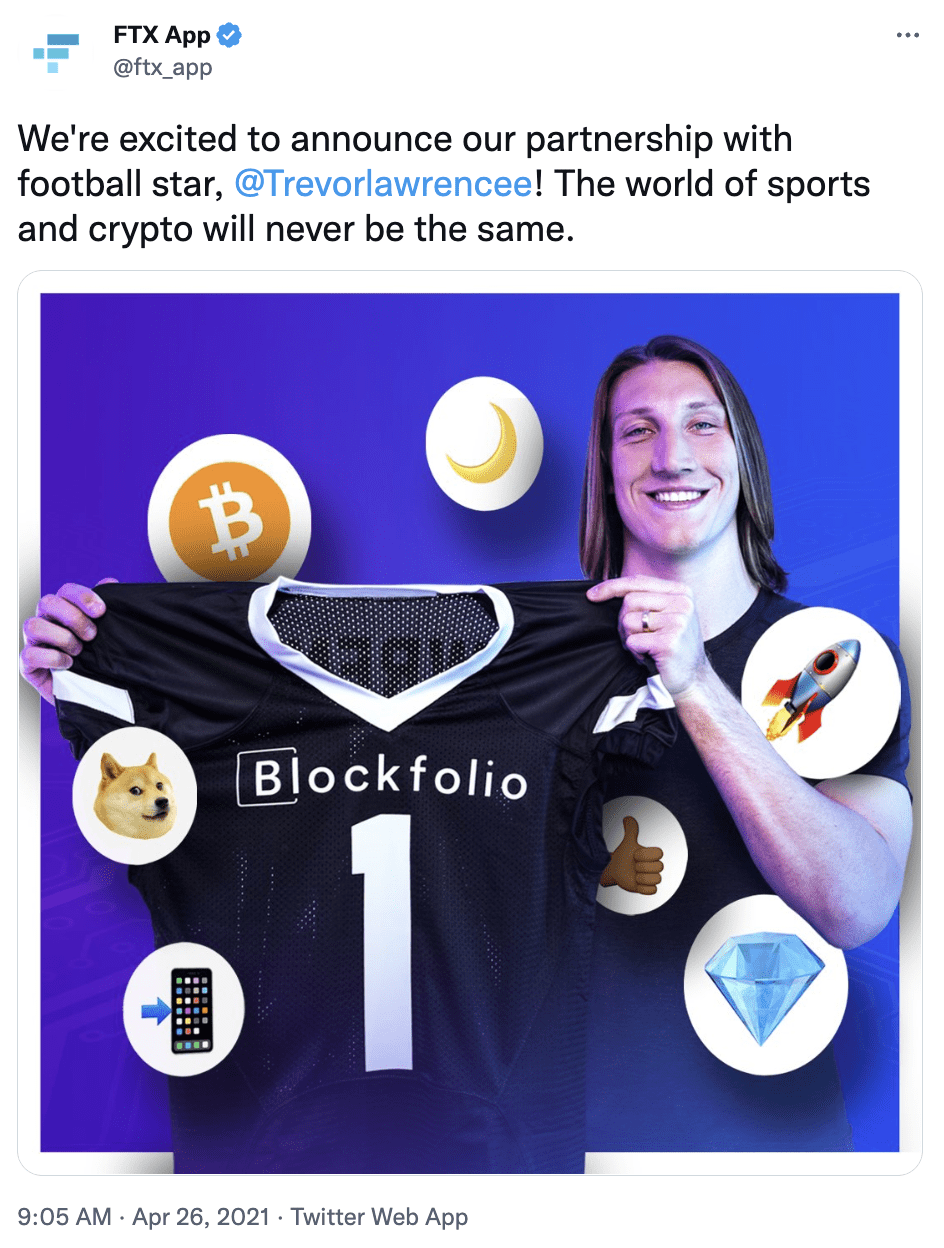 In November 2021, the FTX Entities entered into a long-term partnership with global icon and history-making MLB Superstar Shohei Ohtani to increase awareness of FTX in the global market. In addition to being an FTX global ambassador, Ohtani received all of his compensation in equity and cryptocurrencies.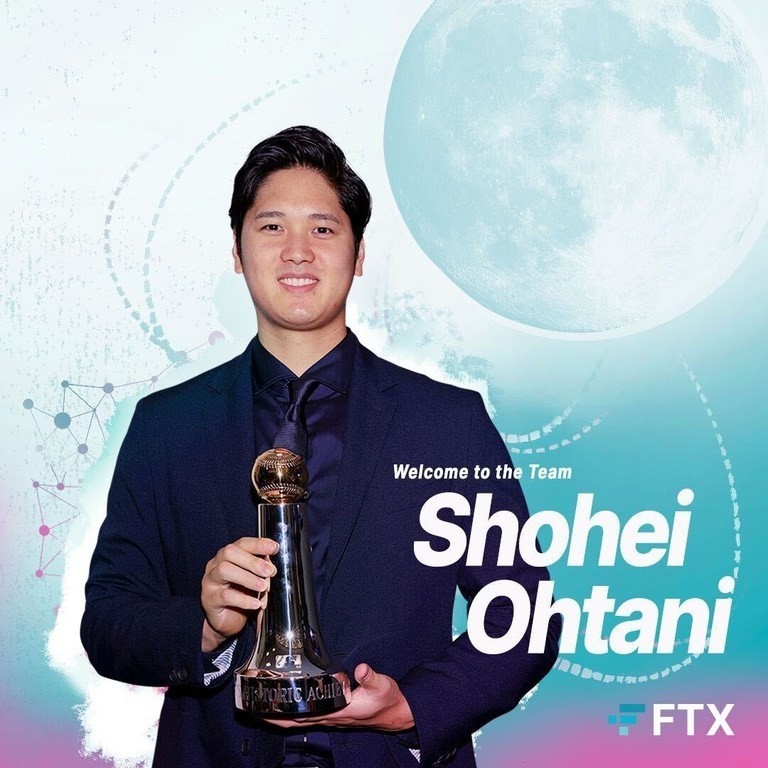 Naomi Osaka, a 24-year-old professional tennis player and four-time Grand Slam singles champion, became a brand ambassador for FTX in March 2022 with the express purpose of "getting more women to start investing in crypto." Osaka wore the FTX logo on the kit she wore at tournaments, including the 2022 Miami Open. In exchange for an equity stake in FTX and payments in unspecified amounts of cryptocurrency, Osaka directed and produced content in association with the FTX Entities designed to promote the offer and sale of the unregistered YBA securities, hoping "she will reach a global audience."
Osaka confirmed her involvement by tweeting a glitzy new FTX ad to her 1.1 million followers. It shows the tennis star competing in a comic strip — and over dramatic music, she says: "They thought they made the rules for us. They thought they could control us. They were wrong."
The video then cuts to a boardroom full of marketing executives talking about the ad in a tongue-in-cheek way — and discussing other ideas… including Osaka heading to the moon. An idea to have a QR code bouncing around the screen (a clear nod to Coinbase's Super Bowl spot) is dismissed for being "boring." They settle on letting Osaka speak for herself — and play a mock-up of the tennis ace giving an interview to a news channel where she says: "I'm Naomi Osaka and I'm proud to partner with FTX. Making cryptocurrency accessible is a goal that FTX and I are striving towards." The ad ends with the tagline: "Naomi is in. You in?"
For his part, the legendary comedian and creator of Seinfeld and Curb Your Enthusiasm, Larry David, created an ad for the FTX Entities called "Don't Miss Out on Crypto," which aired during the 2022 Super Bowl, making FTX one of the most retweeted brands during the Super Bowl, and winning the "Most Comical" honorific from USA Today's Ad Meter.
The ad—the only Super Bowl commercial David ever appeared in—featured David being a skeptic on such historically important inventions as the wheel, the fork, the toilet, democracy, the light bulb, the dishwasher, the Sony Walkman, and, of course, FTX, and cautioned viewers, "Don't be like Larry."
Now, thousands of investors in FTX wish they were like Larry and passed on FTX.
---
To speak with a Securities Attorney, please contact Brenda Hamilton at 200 E Palmetto Rd, Suite 103, Boca Raton, Florida, (561) 416-8956, or by email at [email protected]. This securities law blog post is provided as a general informational service to clients and friends of Hamilton & Associates Law Group and should not be construed as and does not constitute legal advice on any specific matter, nor does this message create an attorney-client relationship. Please note that the prior results discussed herein do not guarantee similar outcomes.
Hamilton & Associates | Securities Attorneys
Brenda Hamilton, Securities Attorney
200 E Palmetto Rd, Suite 103
Boca Raton, Florida 33432
Telephone: (561) 416-8956
Facsimile: (561) 416-2855
www.SecuritiesLawyer101.com