Nasdaq puts the brakes on IPOs of at least 4 small Chinese companies while it probes suspicious market activity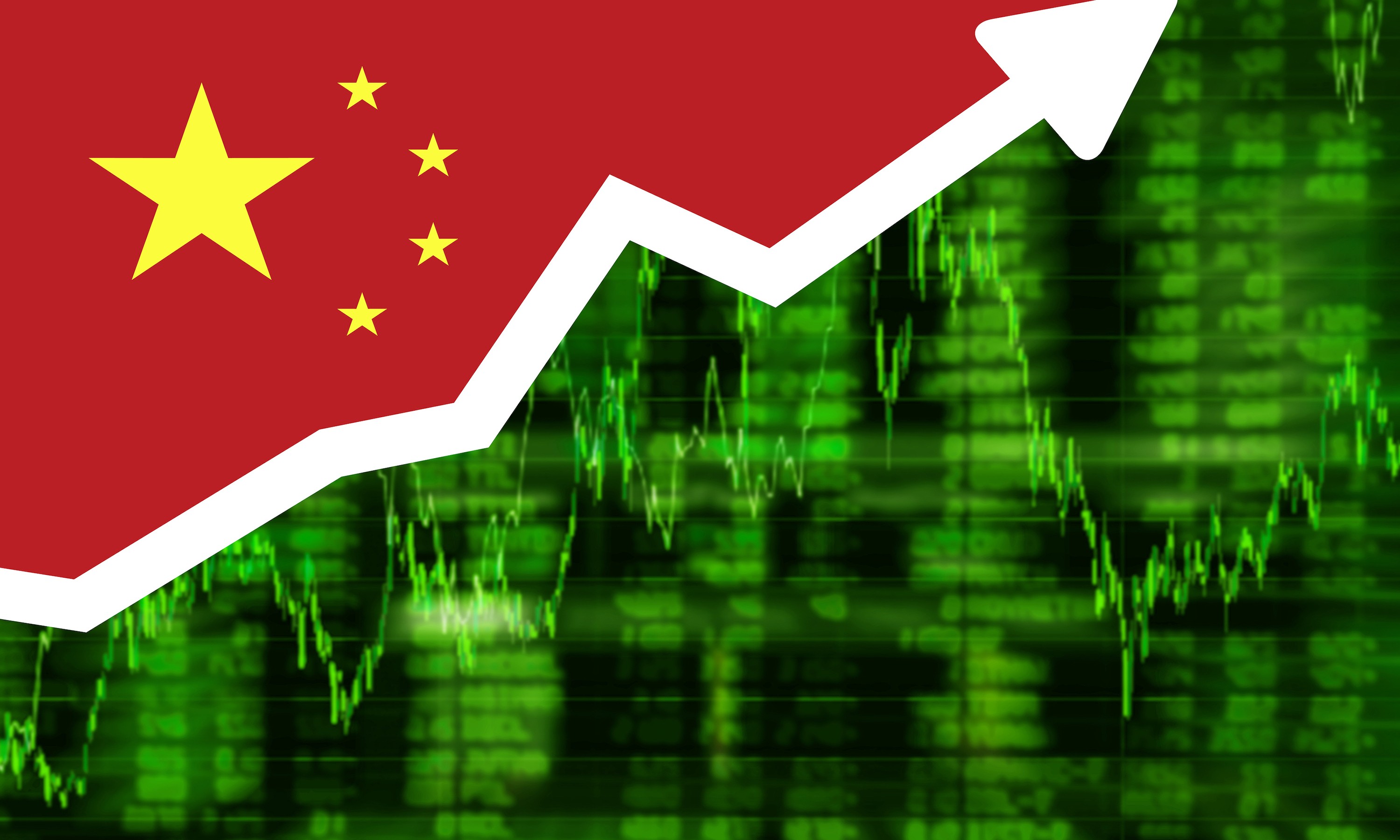 According to various internet reports, Nasdaq Inc has halted the initial public offerings (IPOs) of at least four small Chinese companies while it investigates short-lived stock rallies of other recent Chinese IPOs after going public.
Several small Chinese companies that raised small amounts, typically $50 million or less, in their IPOs, saw their stock prices rise 2,000% – 32,000% in their debuts, only to crash in the days that followed, harming investors who chased the stocks at its higher prices.
This penny stock-style pump-and-dump action allegedly has NASDAQ officials concerned about manipulative trading, and until the causes of the price action can be determined, similar Chinese IPOs are on hold.
We tracked down a few of the Chinese IPOs that recently saw big gains in their debuts:
Magic Empire Global Ltd (MEGL), which had its shares priced at $4 per share for its IPO, saw a quick price increase to $250 on its debut on August 8, 2022, just to have its stock price crash to $12 per share the next day. Today, MEGL trades at $2.78 per share.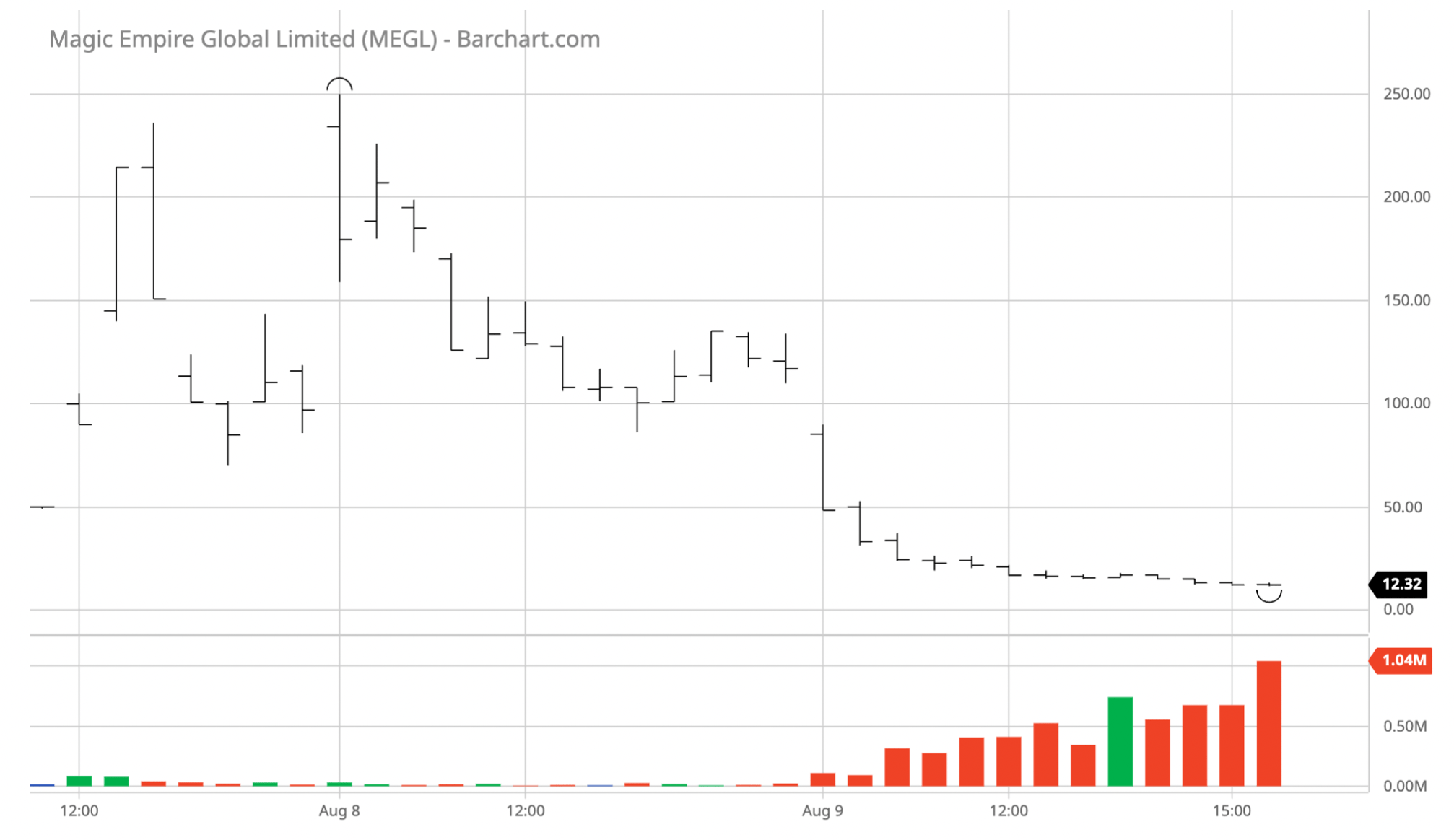 Jianzhi Education Technology Group Company Limited (JZ), which priced its IPO at $5 per share, shot to $186 per share on its debut on August 26, 2022, just to crash back under $20 per share the next day. Today, JZ trades at $2.02 per share.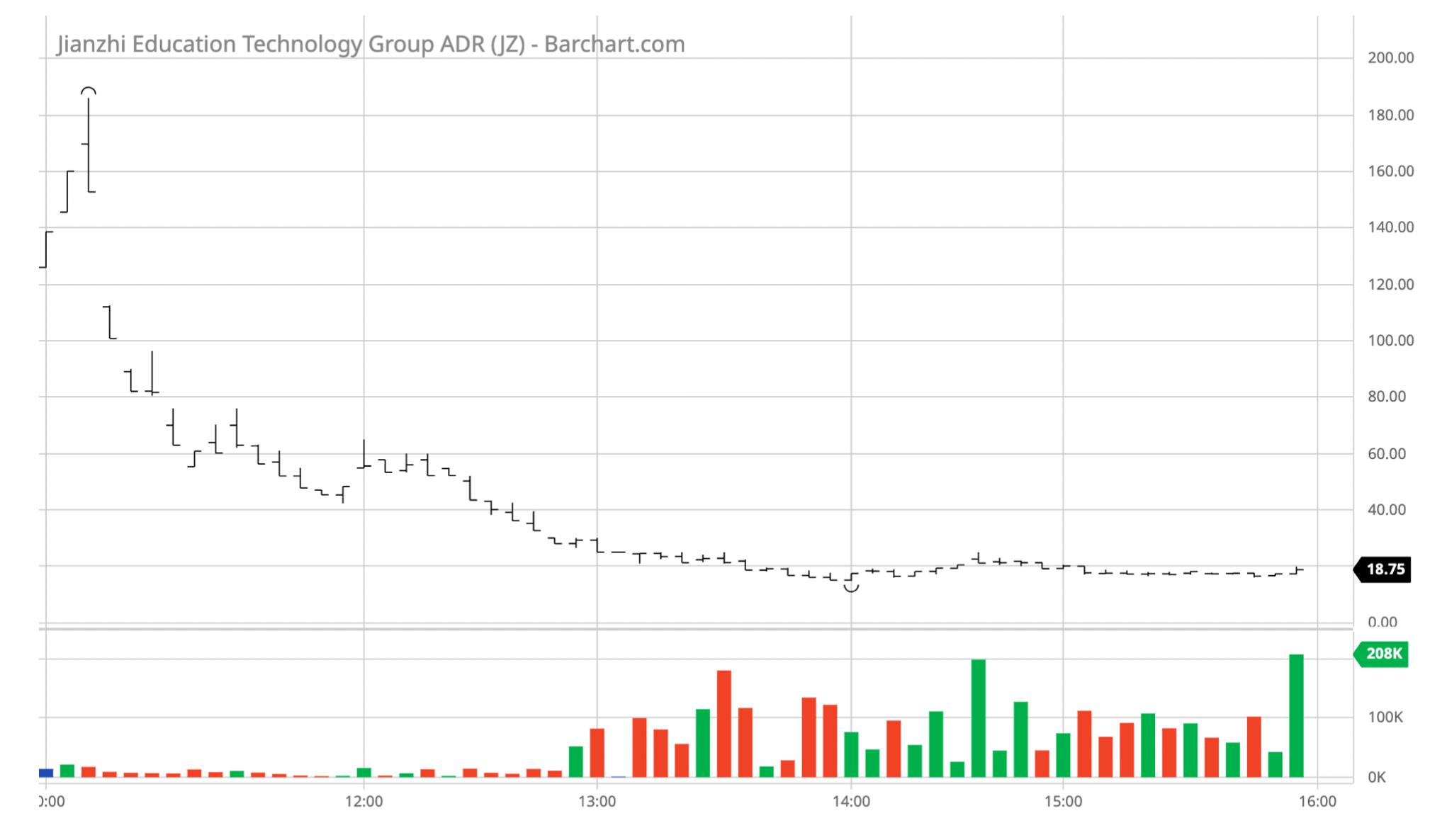 Addentax Group Corp (ATXG), which priced its IPO at $5 per share, opened at $27 per share and soared to $656 per share on its debut on August 31, 2022, just to crash to $9 over the next two days. Today, ATXG trades at $2.32 per share.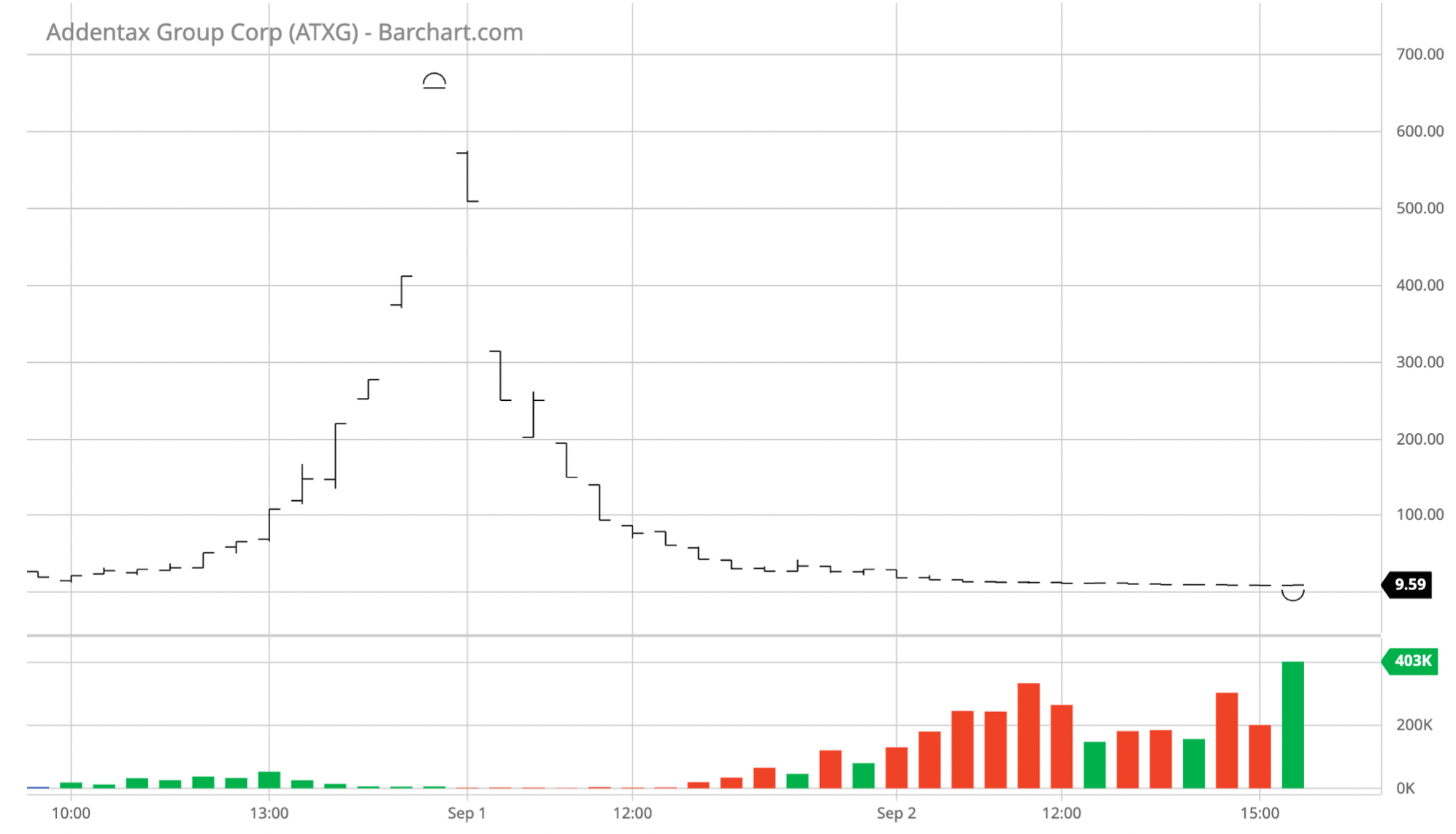 Another notable Chinese IPO to see massive gains followed by huge losses is Amtd Digital Inc (HKD), which debuted in July 2022 at $13 per share after pricing its IPO at $7.80 per share. The stock began to surge in late July, eventually peaking at $2,555 per share (up more than 32,000%) on August 2, 2022. Today, the stock trades at $27.98 per share.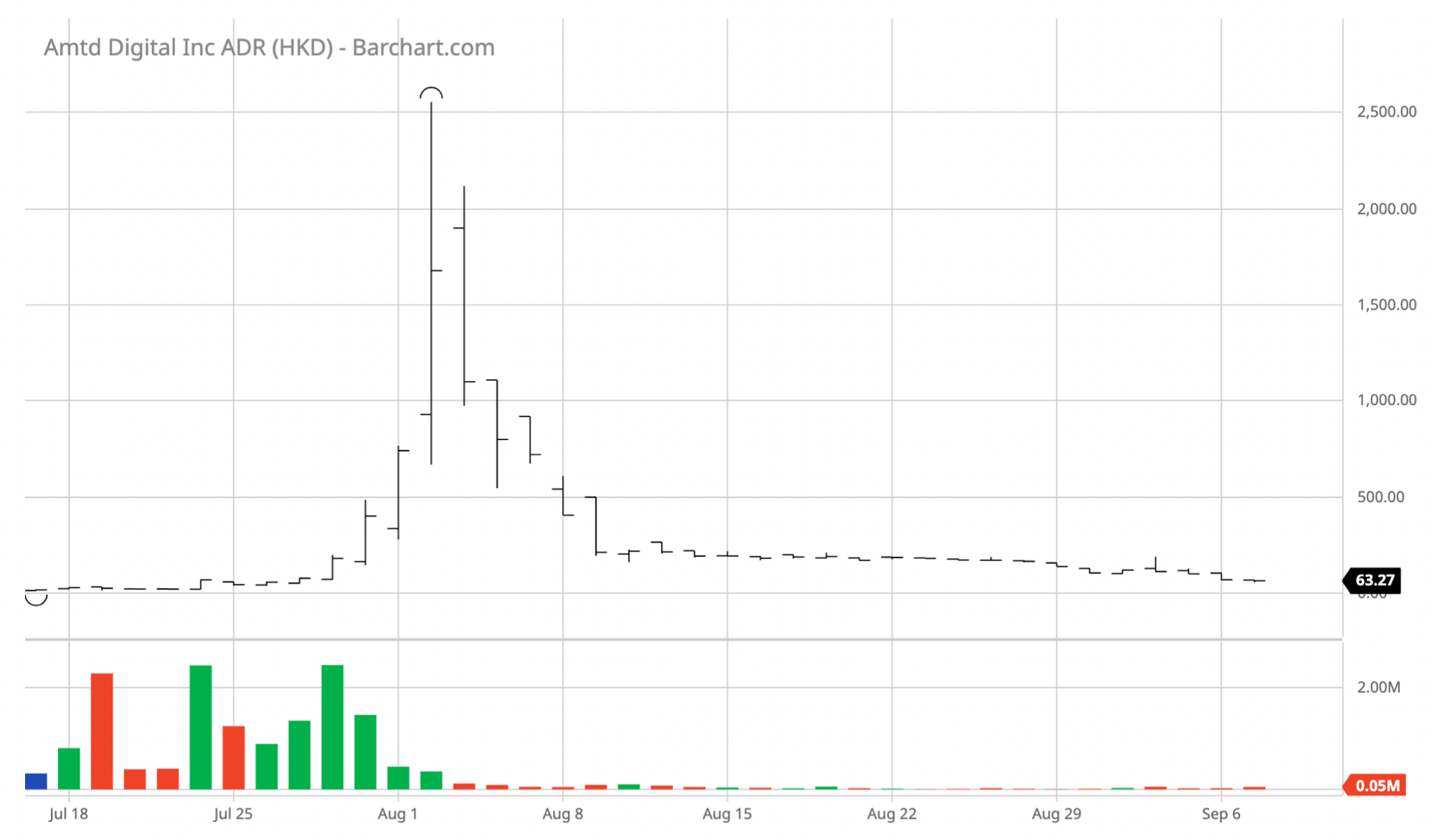 According to a report by Reuters, a source told Reuters that Nasdaq started asking the advisers of small Chinese IPO candidates questions in mid-September. The questions concerned the identity of their existing shareholders, where they reside, how much they are investing and if they were offered interest-free debt so they can participate.
The price action obviously creates massive gains for the pre-IPO investors in these stocks, and if the source sighted in Reuter's article is correct, the NASDAQ is interested in learning more about the pre-IPO investors.
The NASDAQ also presumably suspects that there is a common link between many of these Chinese IPOs that saw big debuts and some Chinese IPOs that have yet to debut. And now, they are determined to get to the bottom of it to prevent more US retail investors from getting harmed in the future.
The names of the halted IPOs have yet to be disclosed, but it will be interesting to see what conclusions the NASDAQ investigation reveals and what future actions may be taken as a result. 
---
To speak with a Securities Attorney, please contact Brenda Hamilton at 200 E Palmetto Rd, Suite 103, Boca Raton, Florida, (561) 416-8956, or by email at [email protected]. This securities law blog post is provided as a general informational service to clients and friends of Hamilton & Associates Law Group and should not be construed as and does not constitute legal advice on any specific matter, nor does this message create an attorney-client relationship. Please note that the prior results discussed herein do not guarantee similar outcomes.
Hamilton & Associates | Securities Attorneys
Brenda Hamilton, Securities Attorney
200 E Palmetto Rd, Suite 103
Boca Raton, Florida 33432
Telephone: (561) 416-8956
Facsimile: (561) 416-2855
www.SecuritiesLawyer101.com