SEC Defendant and FBI Fugitive Justin Costello Arrested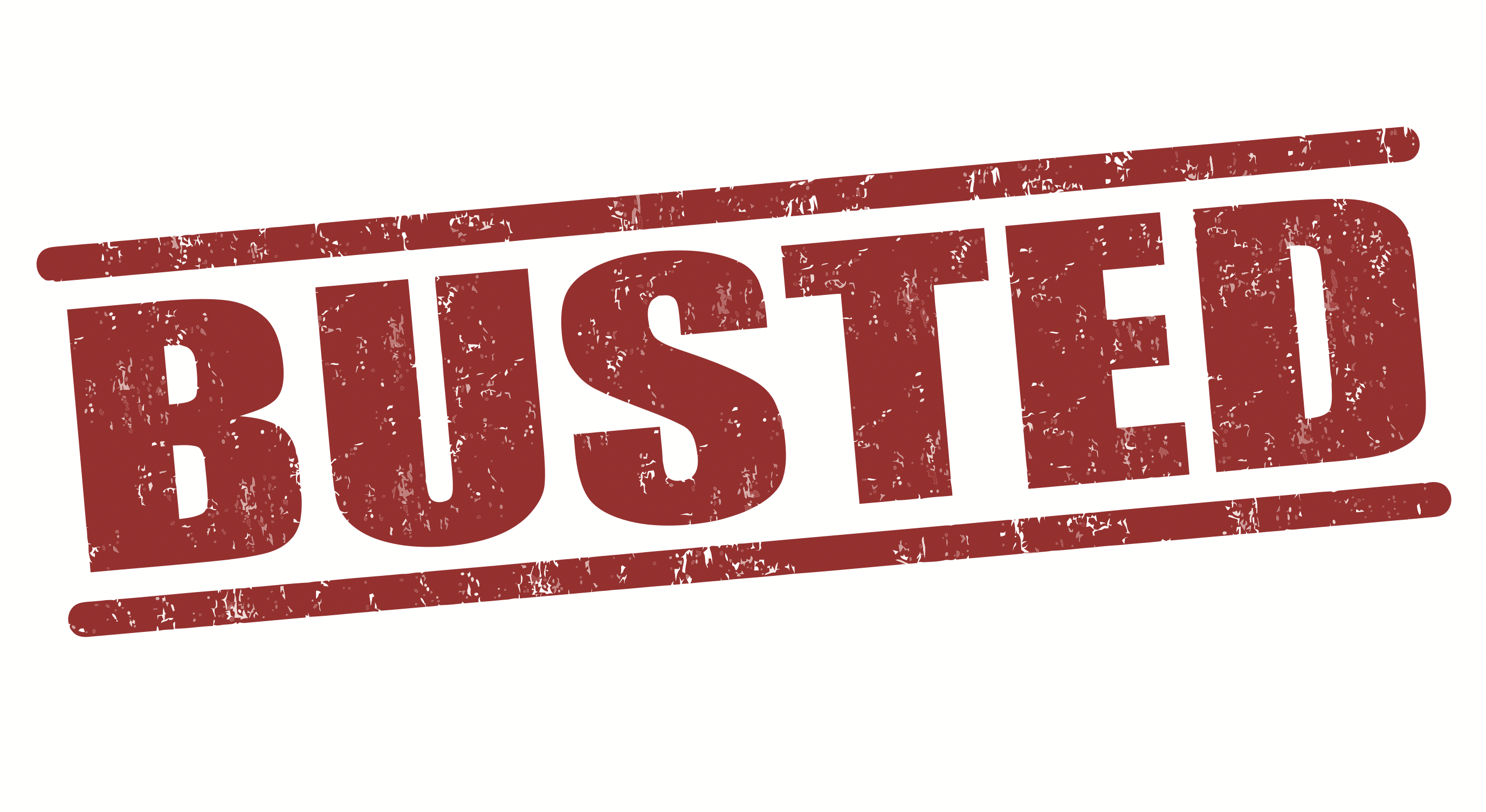 On October 4, 2022, SEC Defendant and FBI fugitive Justin Costello was arrested by an FBI SWAT team. Costello had been on the run from authorities as a fugitive since September 29th after failing to surrender to authorities after being charged with 22 counts of wire fraud and 3 counts of securities fraud as part of $35 million financial fraud.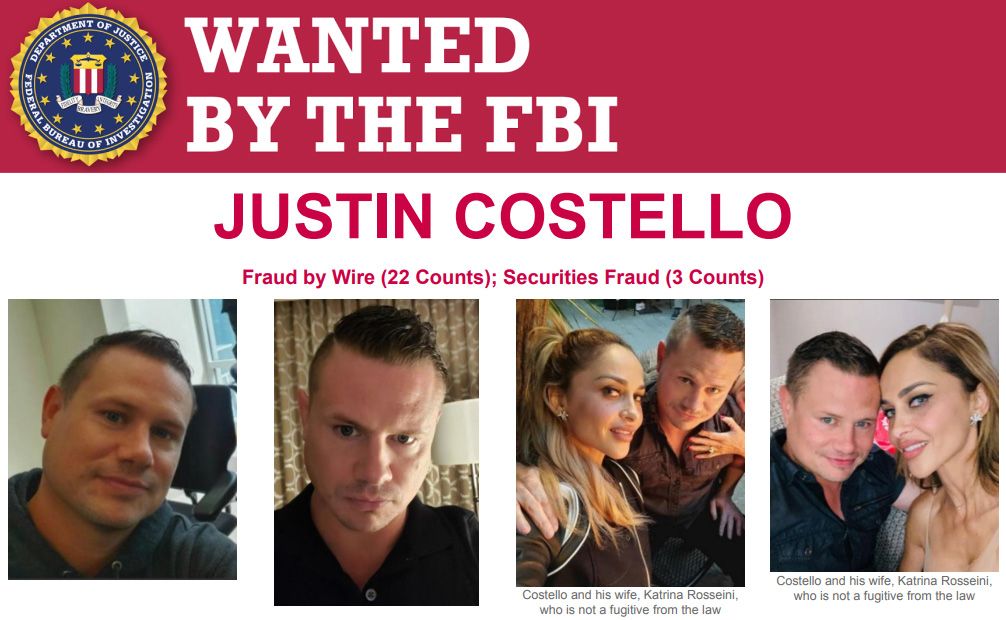 According to the criminal Indictment, Costello, a 42-year-old resident of La Jolla, California, (i) diverted at least $3.6 million to himself from his company Pacific Banking Corp, which provided banking services to three marijuana companies, (ii) cost more than 7,500 investors about $25 million through pump-and-dump schemes fueled by false statements, (iii) scammed $6 million from 29 investors who invested directly with Costello based on false statements made to those investors about his background and experience, and (iv) misappropriated $42,000 to pay for his wedding with Katrina Rosseini, which included a Jame Bond-themed cake and ice sculptures.
According to information filed with the U.S. District Court Southern District of California (San Diego), the FBI SWAT team tracked Costello's Alfa Romeo to a remote area in El Cajon, California, just an hour's drive from the Mexican border, where agents found Costello walking around with a backpack. The agents arrested Costello, who stated he was surprised agents had found him because he had turned his phone off. Costello stated he did not turn himself in because he was recovering from a recent stroke, and if not for the stroke, he could have outrun the SWAT agents. Costello admitted that he was the person charged in the Indictment and encouraged agents to "Google" him so they could read about the case.
An inventory search revealed Costello's backpack contained resources that aid in fleeing prosecution, including gold bars worth $12,000, U.S. currency worth $60,000, $10,000 in Mexican pesos, a receipt for a pre-paid phone number, a fake Washington state driver's license with his photo in the name of "Christian Bolter", and credit cards and checkbooks. The US Attorney is using those findings, along with the accusations in the Indictment and a history of violence, to argue that Costello should be detained without bond.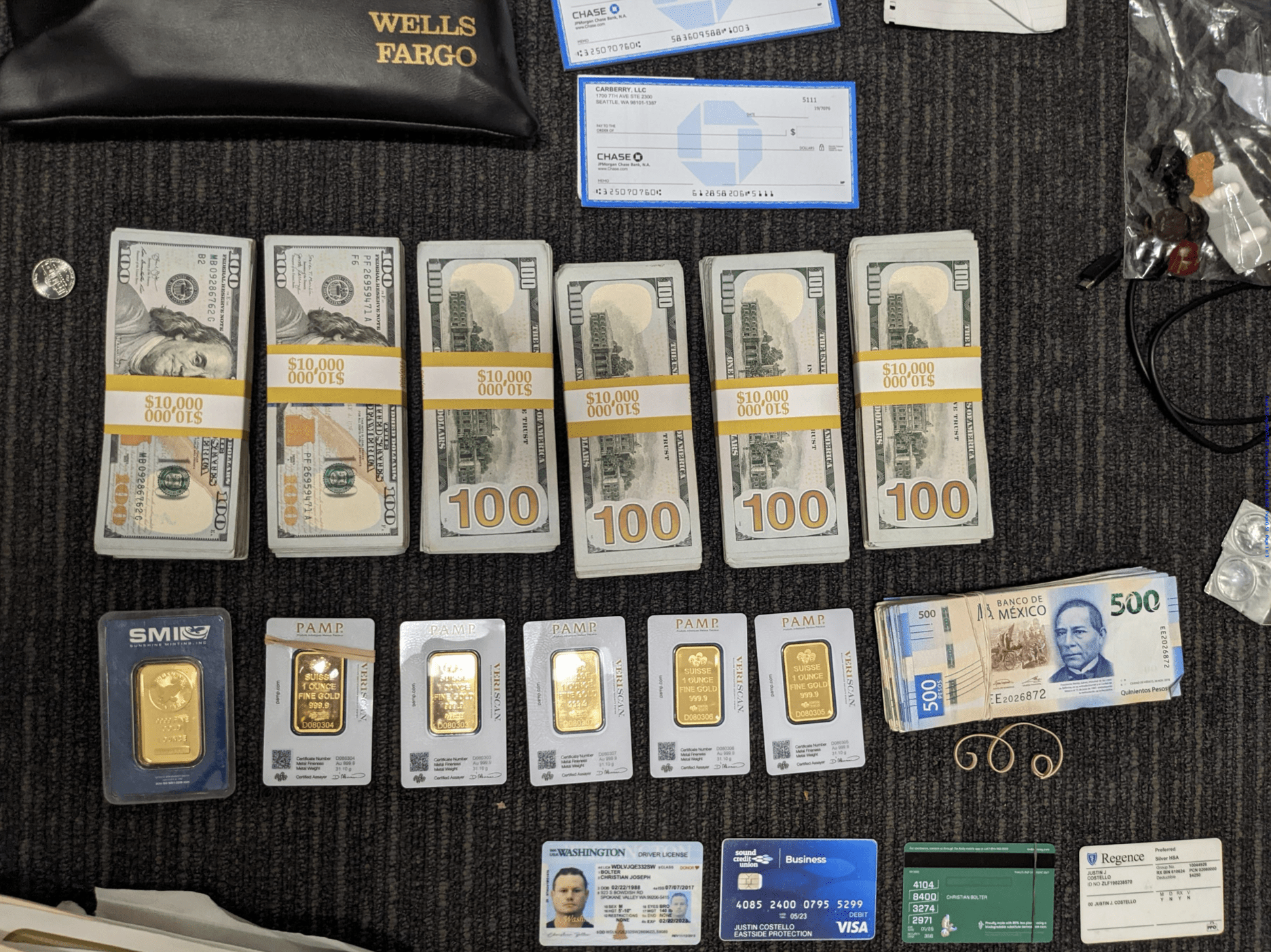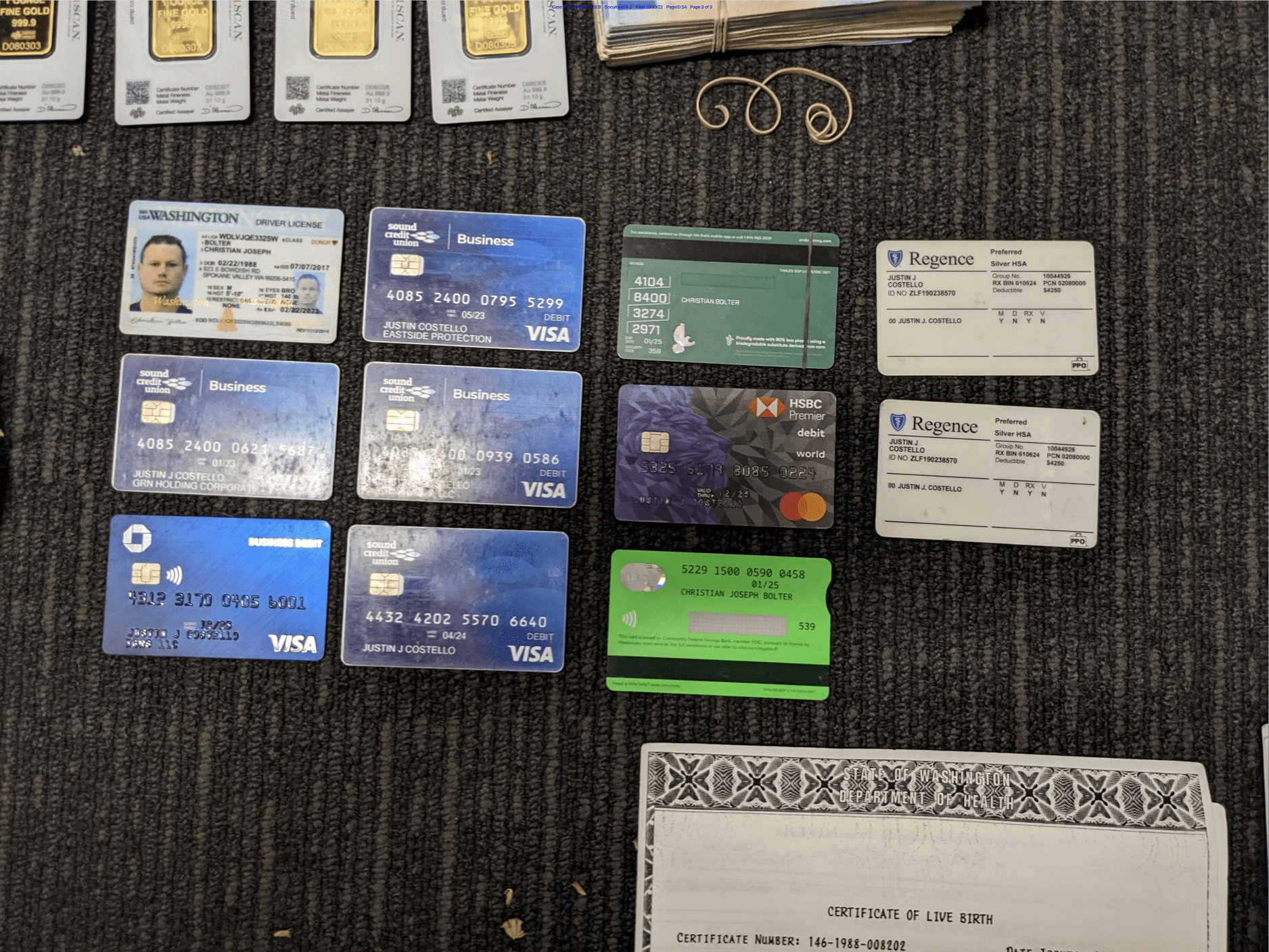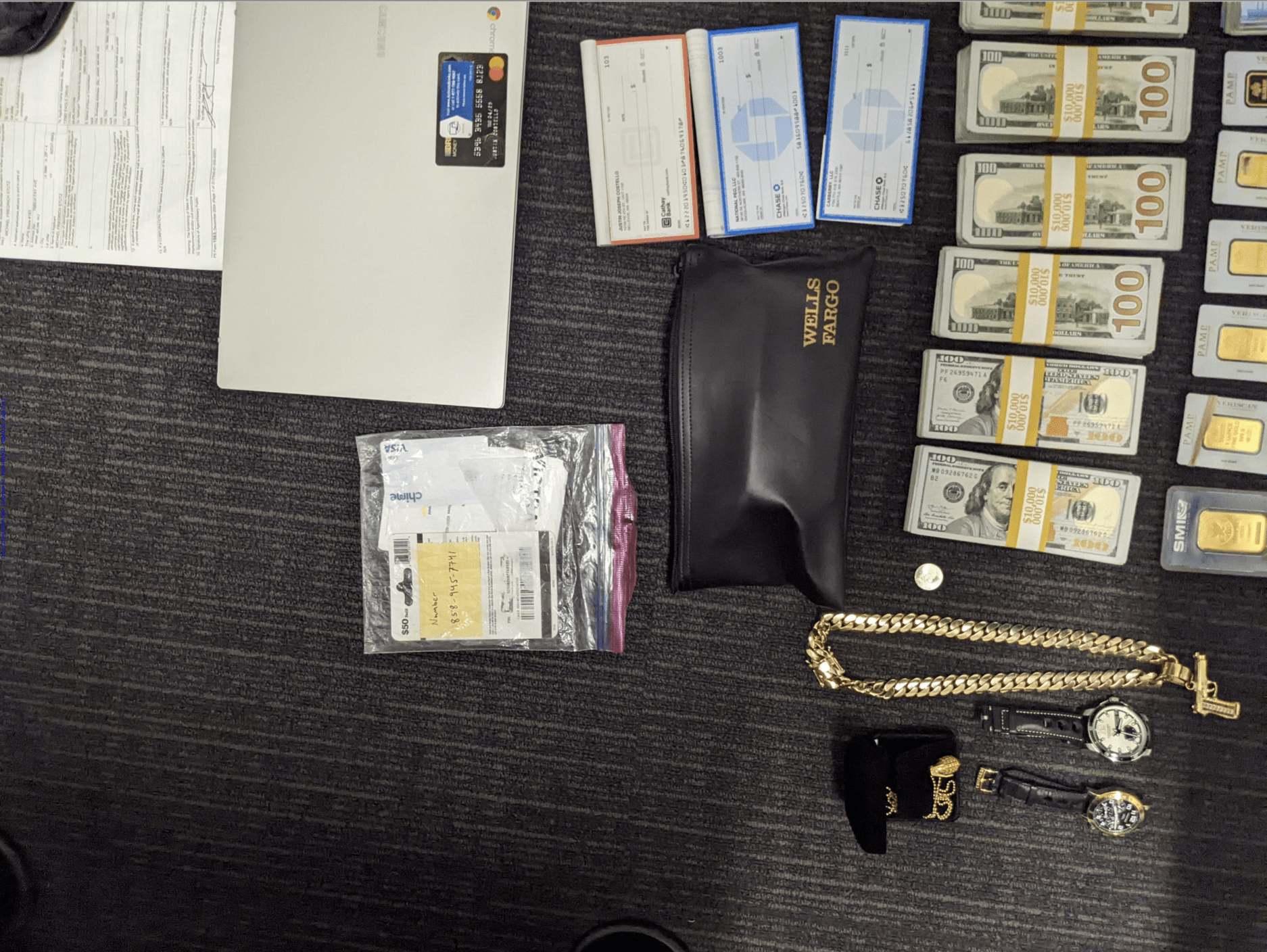 According to the Indictment, Costello's fraudulent activities started in the fall of 2017 when he began providing banking services to three marijuana companies through his company, Pacific Banking Corp. Contrary to representations made to the three marijuana companies, Costello fraudulently diverted their funds collected by co-mingling them with other clients' funds and using them for his own personal expenses and his own personal companies, including GRN Funds LLC. After diverting all the funds from Pacific Banking Corp, Costello provided the three marijuana companies with false statements to make them believe that the funds were still in control of Pacific Banking Corp.  
In June 2019, Costello used money stolen from the three marijuana companies and diverted to GRN Funds LLC to purchase a public shell named Discovery Gold Corp (later renamed to GRN Holding Corporation ("GRNF")), and in February 2020, Costello acquired a public shell named Riverdale Oil and Gas Corporation (later renamed to Hempstract Inc ("HPST")). Starting before the acquisitions, Costello made material misrepresentations to private investors, and after the acquisitions, Costello made material misrepresentations to the public through public filings with the Securities and Exchange Commission and press releases and engaged in manipulative trading in the securities of both issuers. 
Costello's material misrepresentations included lies about his background, education, and the size and success of his marijuana banking business described above, including that (1) GRN Funds LLC controlled an umbrella of companies with $1.15 billion under management and $600 million under deposit; (2) he graduated from the University of Minnesota with a degree in Public Business Administration and had a Master's in Business Administration (MBA) from Harvard Business School; (3) he had served in the armed forces, had done two tours in Iraq, and had been wounded twice; (4) he was a billionaire; (5) he managed money for wealthy individuals, including a Saudi sheik; and (6) he had 14 years of experience on Wall Street.
Two investors, in particular, referred to as B.M. and J.M. in the Indictment, were duped by Costello into purchasing $250,000 in stock in GRN Holding WA and $1,800,000 in restricted stock in GRNF from Costello at a markup of 9,000 percent over the price paid by Costello. Costello also used the same misrepresentation to get B.M. and J.M. to let him manage $4,000,000 of their money in an investment trading account even though Costello didn't hold any securities licenses and was not a registered broker. Costello even went as far as to charge B.M. and J.M. a 20% profit-sharing fee on all profitable trades made by the account, which Costello represented as a "friends and family" discount.  According to the regulators, Castillo used their $4 million brokerage account to trade, at a significant loss, securities of microcap companies in which Costello had an undisclosed financial interest.
A third investor, referenced in the Indictment as S.T., purchased HPST stock owned by Costello for $100,038 and wrote Costello a check for $125,000 for shares of GRNF. Costello then turned around and used $42,000 of the money raised from the GRNF stock sale to pay for his wedding expenses. In addition, Costello convinced S.T. to put $400,000 into a trading account for Costello to manage. Among other stocks, Costello directed S.T. to use the trading account to buy and sell shares of GRNF and HPST. S.T. lost approximately $51,000 trading in her brokerage account. According to the Indictment, lies used by Costello to prey upon S.T. included that he went to Harvard, managed money for a sheik, and was the youngest billionaire under 40 years old.
All total, Costello did private transactions similar to the ones done with B.M., J.M., and S.T., with approximately 29 investors who collectively lost approximately $6 million.
According to the Indictment, besides his fraudulent personal transactions, Costello also conducted a series of manipulative pump-and-dump schemes on at least three other issuers besides GRNF and HPST between October 2019 and January 2021, including Foothills Exploration Inc (FTXP), REMSleep Holdings Inc (RMSL), and Clancy Systems International Inc (formerly CLSI, now Obocon Inc (OBCN)). To conduct the manipulative schemes, Costello (1) purchased the securities of these issuers in brokerage accounts under his control; (2) secretly recruited and agreed to pay promoters to tout the stock on Twitter and other social media; (3) sold the stock he had accumulated after the price increased due to the illegal touting of the stock; (4) paid the promoters a share of the illicit profits for their activities.
The Indictment singled out one of those promoters by the initials D.F. According to the Indictment, Costello was in regular contact with D.F. about buys and sells of the manipulated securities and agreed on a 70%-30% split of the trading profits with D.F. 
Together Costello's misrepresentations and D.F.'s social media posts helped turn GRNF into one of the most memorable pump-and-dumps of all time. The stock price rose from a fraction of a penny to a high of $2.22 before negative exposure, self-awareness, and dilution eventually took the price back down to below a penny.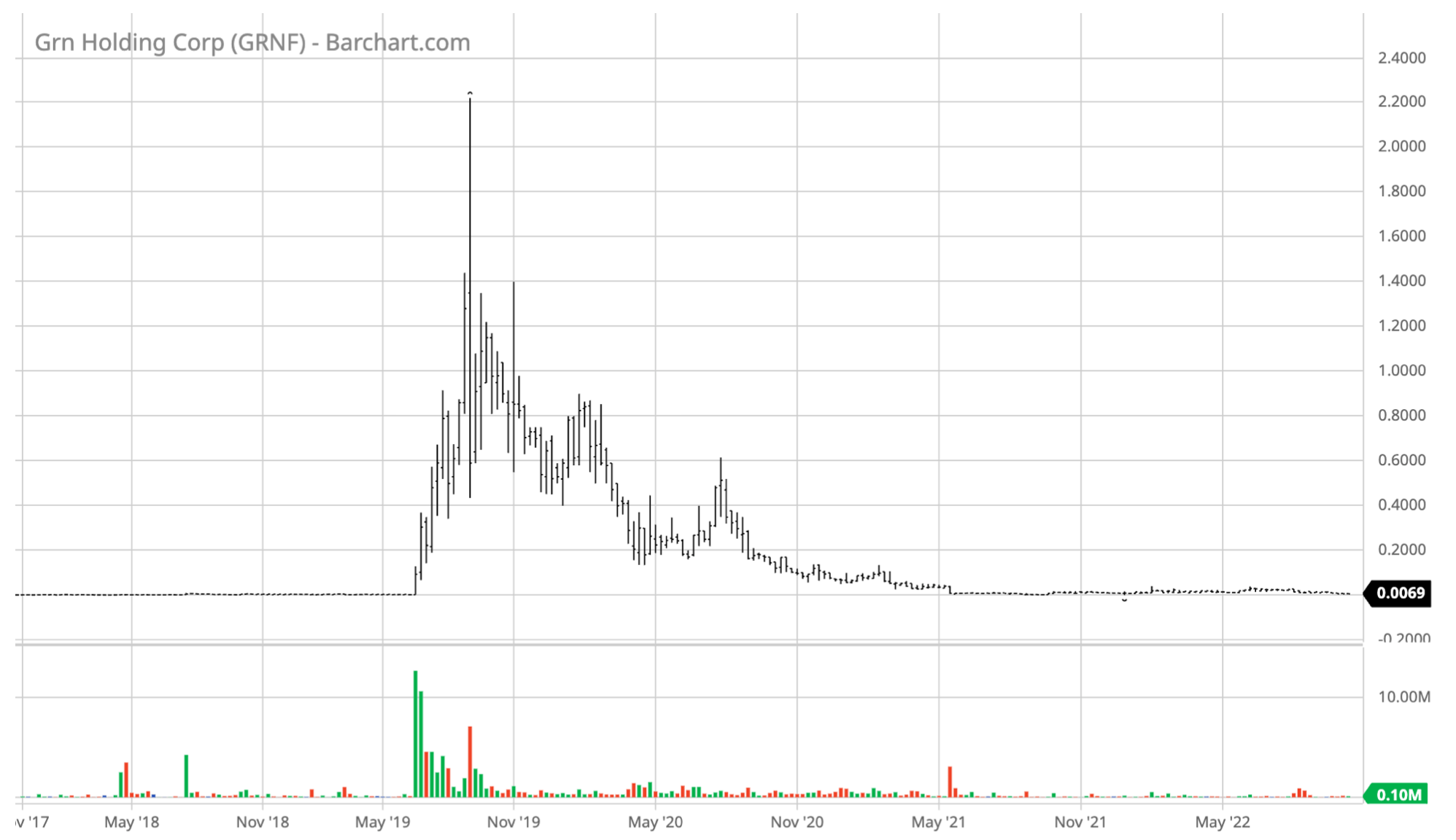 HPST saw similar results, rising from a fraction of a penny to a high of $2.17/share before eventually ending up back near $.01.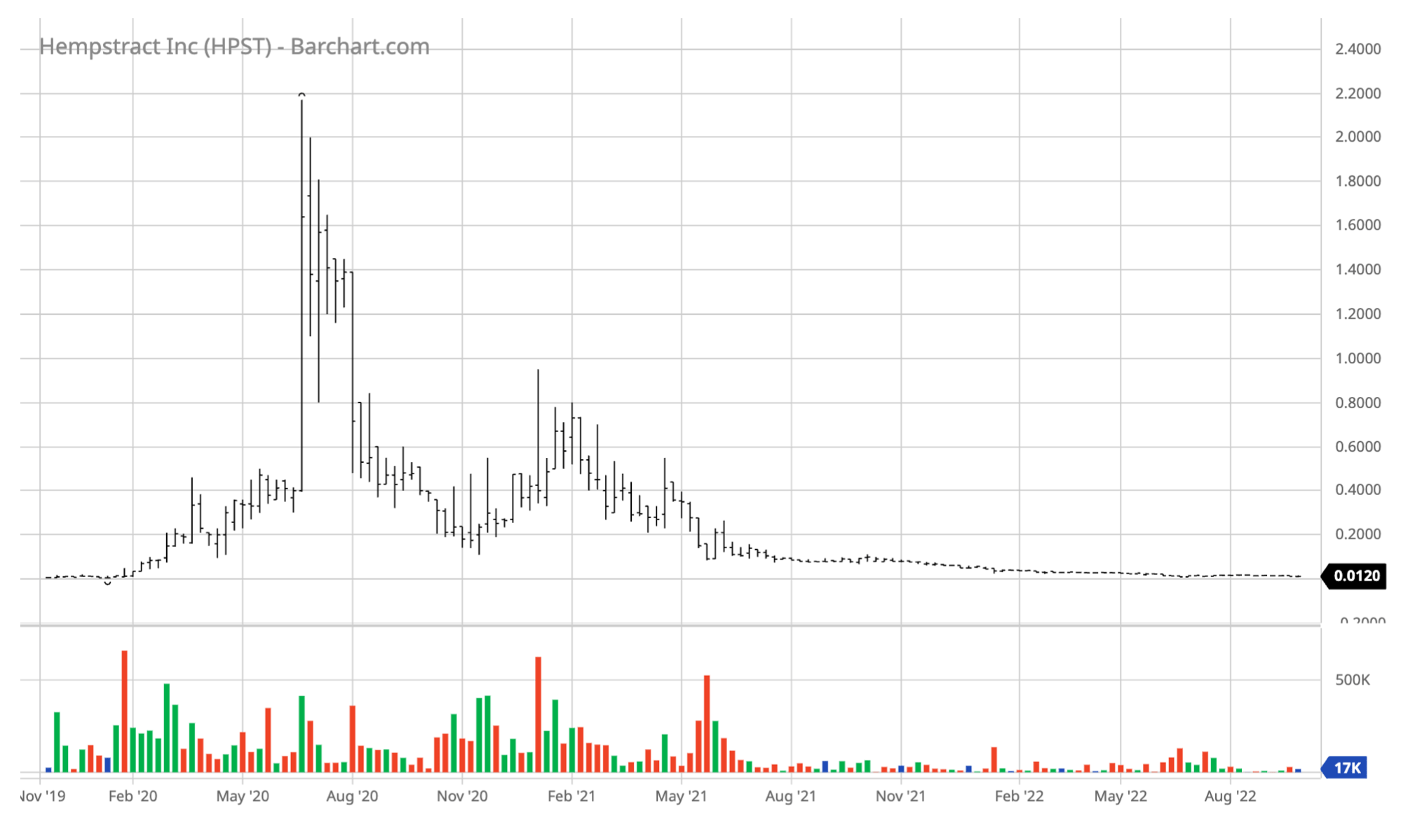 The biggest downside to a memorable pump-and-dump is that it elevates people like Justin Costello in the eyes of penny stock investors, and they want a piece of whatever stock can be linked to that name in the future, which helped fuel the subsequent Costello/D.F. pumps, CLSI, FTXP, and RMSL.
That snowball effect was used to the advantage of Costello to help manipulate several other stocks not mentioned in the Indictment. According to our research, besides GRNF, HPST, CLSI, FTXP, and RMSL, Costello and his social media pumpers were also involved in manipulating Homeland Resources Corp (HMLA), Victoria Lake Inc (LVCA), and Canal Capital (COWPP), among others. Costello also used his bogus persona and popular name to get several public issuers to hire him in "advisory" roles, including MCTC Holdings Inc (MCTC), which now trades as Cannabis Global Inc. (CBGL), Cannabis Strategic Ventures (NUGS), Marijuana Company of America (MCOA), and MJ Holdings, Inc. (MJNE).
The frauds start to fall apart
On August 19, 2019, after the DCGD share price had seen massive gains, White Diamond Research published a report about Discovery Gold Corp (DCGD), questioning many of the details being provided to the public by Costello. The report argued that DCGD was, in fact, an empty shell company with no cash, assets, or business operations, Costello was not really an exceptional businessman, and Costello was lying about being a Harvard Business School graduate and about GRN Funds LLC being a registered hedge fund.
On November 13, 2019, another research company, Utopia Capital Research, published similar reports about misrepresentations made by Costello to the public, and exposed some major red flags in Costello's past, including an arrest in September 2019 for making threats of physical violence against co-workers, then making threats against the arresting officers.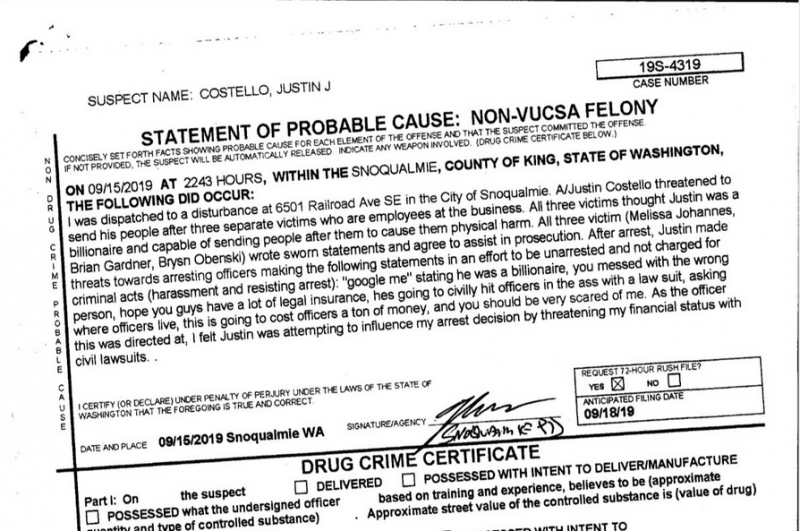 On March 26, 2020, one of the marijuana businesses duped by Costello, CCSAC Inc, suspecting fraud, filed a lawsuit against Pacific Banking Corp, Justin Costello, and GRN Funds LLC in the U.S. District Court for the Nothern District of California alleging breach of contract, among other claims. On April 24, 2020, the Court issued a preliminary injunction order prohibiting Costello from "using, drawing down, transferring or in any way reducing the funds deposited with Pacific Banking Corp by CCSAC Inc without their consent." On September 8, 2022, the Court ordered Costello to make a Declaration under penalty and perjury identifying where CCSAC Inc's funds were located, including the balance of the funds as of September 9, 2022. In his sworn statement, Costello said that the funds were located in an account in the name of GRN Funds LLC and had a balance of $2,923,858.13. Contrary to the sworn statements, the GRN Funds LLC account only had a balance of $15.35.
On November 24, 2020, the aforementioned J.M. and B.M., whose full names are James Meckley and Brenda Meckley, filed a lawsuit against Justin Costello in King County, Washington, alleging that Costello scammed them out of $6 million. The lawsuit disclosed that Costello was now on the SEC's radar, which had issued a subpoena to James and Brenda Meckley in January 2020 as part of an investigation they had opened into GRNF. The Meckleys claimed that after they informed Costello about the subpoena, Costello asked them to lie to the SEC on his behalf and to hide information about their transactions with Costello from the regulators. It was journalist Terri Buhl that first published information about the lawsuit.
On September 29, 2022, the SEC investigation finally concluded with an action filed against Justin Costello and stock promoter David Ferrero (D.F. from the Indictment). David Ferraro, a 44-year-old resident of Radford, VA., went by the name computerbux on Twitter and Ihub. 
The SEC said that Justin Costello used a false persona as a Harvard-educated military veteran and hedge fund billionaire to defraud investors out of millions of dollars and that Costello and David Ferraro promoted the stock of several microcap companies on social media without disclosing their own simultaneous stock sales as market prices rose. The complaint alleges that Ferraro posted hundreds of tweets to hype those stocks and did not disclose that Costello intended to sell his shares once the stock price increased or that Ferraro would receive a share of Costello's profits. Through these alleged schemes, Costello and Ferraro together made approximately $792,000 in illicit trading profits.
The SEC's complaint further accused Costello of using his false representations and fabricated accomplishments to secure approximately $900,000 of investments in two different companies from more than 30 investors. As further alleged in the complaint, while acting as an investment adviser to a married couple, Costello sold the couple $1.8 million of shares in a penny stock at a markup of 9,000 percent over the price paid by Costello and used their $4 million brokerage account to trade, at a significant loss, securities of microcap companies in which Costello had an undisclosed financial interest.
The SEC's complaint, filed in the Western District of Washington, charges Costello and Ferraro with violating Section 17(a) of the Securities Act of 1933 and Section 10(b) of the Securities Exchange Act of 1934 and Rule 10b-5 thereunder, and further charges Costello with violating Sections 206(1) and 206(2) of the Investment Advisers Act of 1940. The complaint seeks permanent injunctive relief, disgorgement with prejudgment interest, and civil penalties. The SEC also seeks penny stock bars against Costello and Ferraro and an officer and director bar against Costello.
The same day the SEC filed its action, on September 29, 2022, the Department of Justice announced the Indictment against Costello. Costello was charged with 22 counts of wire fraud and 3 counts of securities fraud. Wire fraud is punishable by up to 20 years in prison and a fine of $250,000 or twice Costello's gains or the loss to the victims of his offenses. Securities Fraud is punishable by up to 20 years in prison and a $5,000,000 fine.
Costello is due to make his first appearance in federal court in San Diego on Tuesday, October 18th, when the judge conducts a hearing for the government's motion to detain Costello until the case is finished.
For many in the penny stock world, the charges against Costello are not a surprise at all; it has been very much expected for a long time. Costello's manipulative actions and misrepresentations were well-known throughout the industry. The surprise was how long he got away with his offenses without facing the consequences. Now, Costello finally gets to face those consequences.  
---
To speak with a Securities Attorney, please contact Brenda Hamilton at 200 E Palmetto Rd, Suite 103, Boca Raton, Florida, (561) 416-8956, or by email at [email protected]. This securities law blog post is provided as a general informational service to clients and friends of Hamilton & Associates Law Group and should not be construed as and does not constitute legal advice on any specific matter, nor does this message create an attorney-client relationship. Please note that the prior results discussed herein do not guarantee similar outcomes.
Hamilton & Associates | Securities Attorneys
Brenda Hamilton, Securities Attorney
200 E Palmetto Rd, Suite 103
Boca Raton, Florida 33432
Telephone: (561) 416-8956
Facsimile: (561) 416-2855
www.SecuritiesLawyer101.com