More Individuals Charged in Billion Dollar Penny Stock Pump and Dump/Money Laundering Operation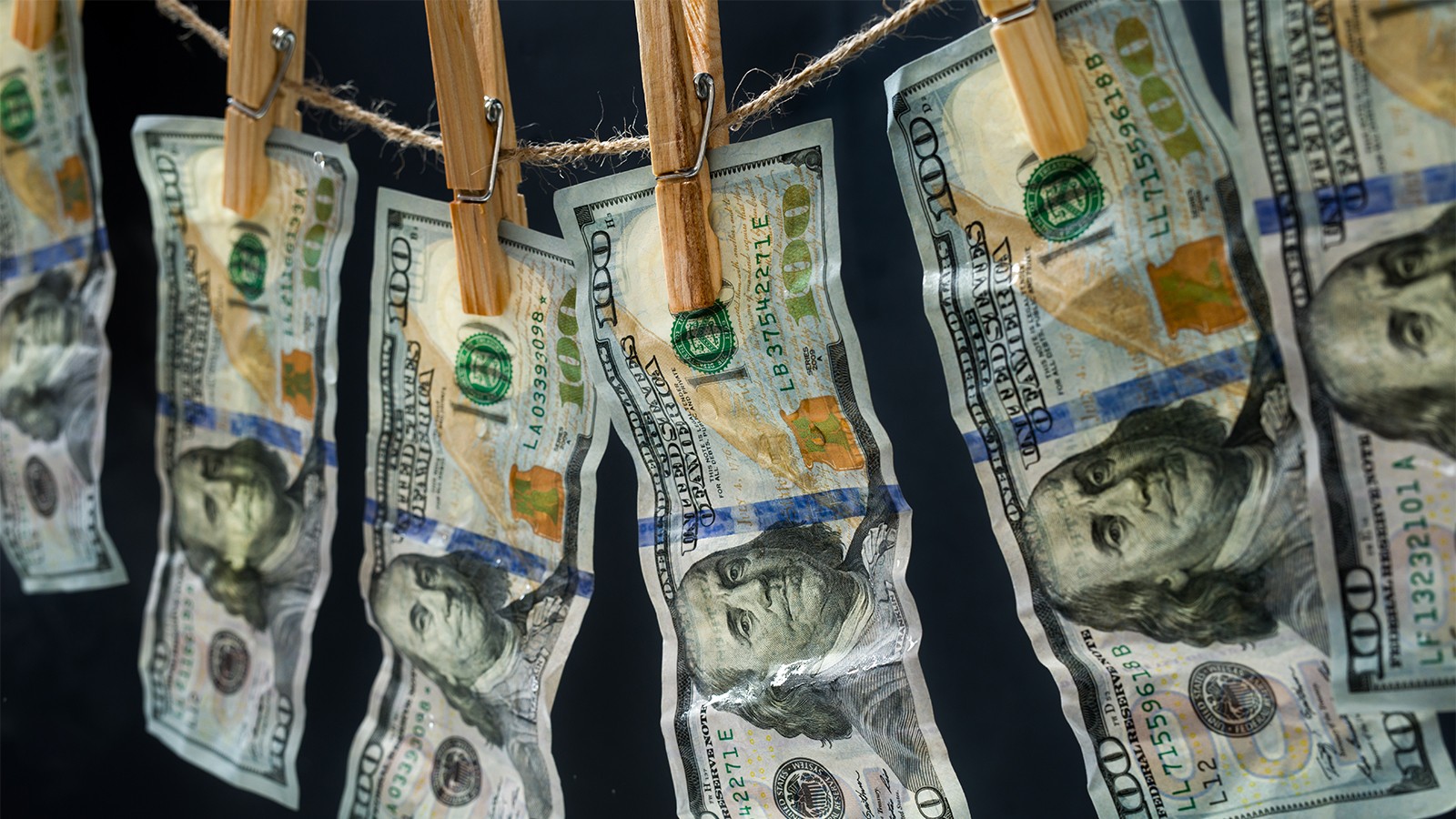 On Thursday, December 9th, three more Canadian citizens were charged by the Securities and Exchange Commission as part of what has been described as a long-running global pump and dump scheme that collectively generated over a billion dollars from unlawful stock sales. 
According to the SEC's complaint, between at least 2011 and 2016, Jay Scott Kirk Lee, Geoffrey Allen Wall, and Benjamin Thompson Kirk allegedly were able to utilize a network of offshore front companies to conceal their control of shares in penny stocks, unload those shares on unsuspecting retail investors, and disburse the proceeds of their fraud to various bank accounts throughout the world.
The SEC's complaint further alleges that Canadian resident Frederick L. Sharp masterminded a complex scheme from 2011 to 2019 in which he and his associates – Canadian residents Zhiying Yvonne Gasarch and Courtney Kelln – enabled control persons of microcap companies whose stock was publicly traded in the U.S. securities markets to conceal their control and ownership of huge amounts of penny stocks.  They then surreptitiously dumped the stock into the U.S. markets in violation of federal securities laws. 
The services Sharp and his associates allegedly provided included furnishing networks of offshore shell companies to conceal stock ownership, arranging stock transfers and money transmittals, and providing encrypted accounting and communications systems.  According to the complaint, Sharp and his associates facilitated over a billion dollars in gross sales in hundreds of penny stock companies.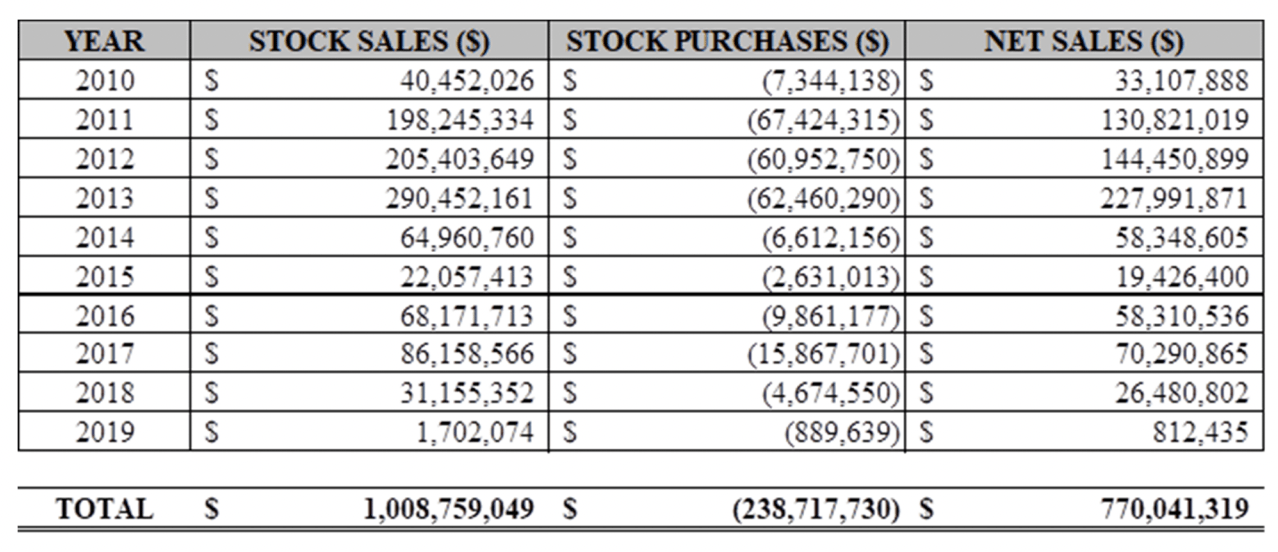 Stocks named in the SEC complaint used explicitly by the Benjamin Kirk group included: Nutranomics Inc (NNRX), Ami James Brands, Inc. (AJBI), Axiom Corp. (AXMM); Green Innovations, Ltd. (GNIN); Independence Energy Corp. (IDNG) (currently known as RedHawk Holdings Corp.); iTalk Inc. (TALK); Medijane Holdings, Inc. (MJMD), and its predecessor, Mokita Exploration Ltd. (MKIT) (currently known as Phoenix Life Sciences International); Punchline Resources Ltd. (PUNL) also known as Punchline Entertainment, Inc. (currently known as Northern Minerals & Exploration Ltd.); Vapor Hub International, Inc. (VHUB) and its predecessor DogInn, Inc.; and Willow Creek Enterprises Inc (WLOC).  
Using paid promotions, including boiler room operations by now-defunct Brighton Markets, the Kirk group made over $77 million in profits from the stocks mentioned above: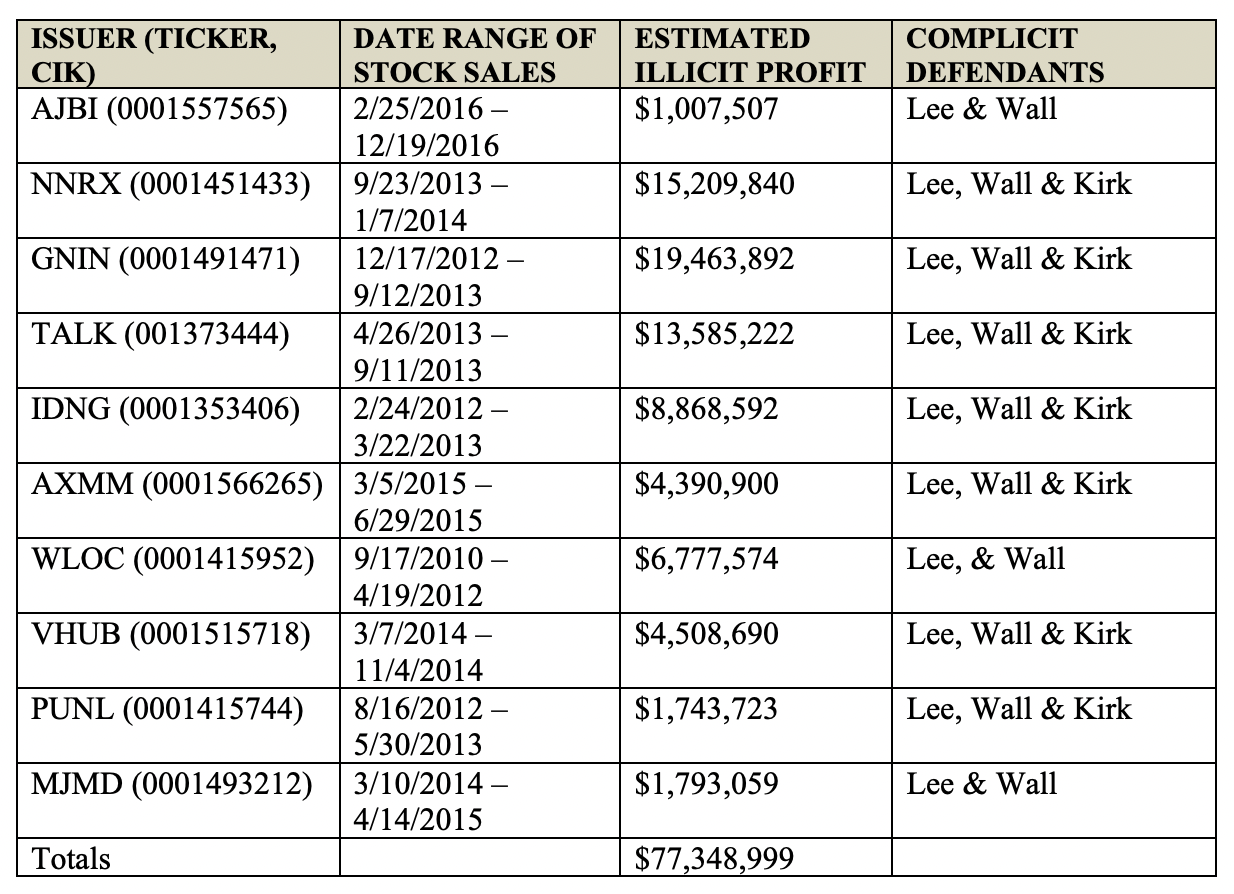 Frederick L Sharp, the alleged mastermind of the scheme, was charged by the SEC on August 5, 2021, along with 8 other individuals.
In parallel proceedings, on August 4, 2021, the US Attorney for the District of Massachusetts charged Sharp, Kelln, Veldhuis, and Luis Carrillo for conspiracy to commit securities fraud and securities fraud. Read the FBI Affidavit in support for Sharp et al. here.
Arrest warrants were issued for Sharp, Veldhuis, Kelln, and Carrillo, but all four individuals remain fugitives.
This SEC complaint ties together SEC enforcement actions against several other people involved in the penny stock markets, including:
The most significant bust was, without a doubt, that of Roger Knox, head of an offshore money organization in Switzerland that often worked under the direction of Frederick Sharp. Knox, along with several of his associates, including Morrie Tobin, Milan Patel, Matthew Ledvina, Kenneth Ciapala, and Ulrik Debo, were criminally charged in a series of indictments between 2018 – 2019.  
Knox was criminally charged on September 17, 2018, and arrested on October 3, 2018.
Tobin, Patel, and Ledvina were criminally charged on November 27, 2018. Tobin and Patel have already pleaded guilty.
Ciapala and Debo were criminally charged on December 5, 2019 (read more here).  Most of the dockets, in that case, are under strict seal.
According to the SEC and Criminal complaints, Knox illegally sold stock through Silverton SA (later renamed to Wintercap SA) for a single control group using nominee shareholders (fake shareholders that held the stock in name only) for more than 100 different publicly traded companies allowing those secret control groups to suck over $164 million out of the market illegally since June 2015. 
But Knox wasn't the leader in this operation. He was one of many working under the instructions of Frederick Sharp. The SEC charges against Frederick Sharp make it clear that Sharp arranged for his clients to deposit stock in Silverton/WinterCap (Roger Knox) and Blacklight SA (Kenneth Ciapala) to obfuscate the control persons' association with their public company stock.
And according to the criminal complaint against Sharp, cooperating witnesses against him include the founder, owner, and chief executive of an asset management firm based in Switzerland and another individual from that asset management firm, each of whom was previously criminally charged and already pleaded guilty, making the Knox bust a key step in eventually bringing charges against Sharp.
Frederick Sharp
Frederick Sharp became a licensed attorney in British Columbia, Canada, in 1981, offering services for clients looking to set up offshore accounts to avoid paying taxes.  
Though tax avoidance isn't necessarily illegal, Frederick Sharp's name is often linked to unlawful money laundering activities. 
In 1995, Sharp was suspended from practicing law in B.C. for one year after he admitted to professional misconduct for "knowingly taking instructions" from a director disqualified "because of a criminal record for fraud." 
After his suspension, Sharp never rejoined the B.C. Law Society.
According to testimony given to the FBI by Kevan Garner during Operation Bermuda Short (an FBI sting set up to catch individuals using penny stocks for illegal kickback and pump and dump activities in the early 2000s), Sharp was using Virgilio Santana Ripoll (HE Capital SA) of the Dominican Republic and Keith King and Cliff Wilkins (FN Group/First Nevisian Stockbrokers Ltd) in Nevis to offer money laundering and tax haven services for people looking to hide their money offshore to avoid paying taxes or avoid detection from the authorities. 

Ripoll remained a partner with Sharp until at least 2019 and can be found in SEC filings, involved setting up several S-1 shell companies in the Dominican Republic and other parts of Central America that were later used for pump and dump activities.
Sharp once again came under scrutiny in 2016 when documents leaked from the law firm Mossack Fonseca known as the "Panama Papers" showed that Sharp helped register 1,167 offshore entities from his Vancouver office, operating as the middle man for several fraudsters, including Mike Milton and penny stock promoter Eric Van Nguyen (criminally charged in 2014 but never arrested).  Sharp had been Mossack Fonseca's Canadian representative since 1994.
The James Bond of Tax Evasion
When it comes to tax evasion, Frederick Sharp appears to consider himself the authority on the matter.
Sharp once wrote a book about offshore entities and tax evasion (later made into a short film produced by Sharp), and according to SEC court records, Sharp's entire operation centers around a James Bond theme:
Sharp's company, Corporate House, operates overseas using a company called Bond and Co.

Sharp used the code name "Bond" for himself when communicating with his penny stock clients.

Sharp set up a secret accounting system called "Q", allegedly to track the proceeds from the illegal sales of securities.
The SEC alleges that Sharp and associates employed the use of cellular phones called "xPhones", which operated on an encrypted network called Threema. The encrypted communications and Q were hosted on servers in Curaçao because Sharp believed that Curaçao was beyond the reach of US law enforcement.
Prior Charges
Luis Carrillo and Benjamin Kirk (two of Frederick Sharp's top clients) were previously charged together by SEC in 2013 for their roles in a pump and dump scheme involving Pacific Blue Energy Corp and Tradeshow Marketing Company Ltd.
Even then, Carrillo and Kirk used Sharp's services. But back then, the stock sales/money laundering was done through Gibraltar Global Securities in the Bahamas. After the regulators shut down Gibraltar Global Securities, individuals previously involved in Gibraltar Global Securities started a new money-laundering organization in Belize.  And after the Belize organization was busted in 2015, Carrillo, Kirk, Sharp, and others continued to operate without consequences. 
Even now, with criminal charges and arrest warrants issued against them and several members of the Swiss money-laundering group behind bars, Carrillo and Sharp are on the loose and possibly running new operations in other parts of the globe while profiting off illegal market manipulation schemes.
According to the latest information, Frederick Sharp has gone missing. His wife, Theresa Sharp, refused service through an email address linked to Sharp, and attempts to serve him in person at his West Vancouver home through the Hague Convention have come up empty. 
Both the United States Department of Justice and the SEC are now proceeding with default judgments against him.
---
For further information about this securities law blog post, please contact Brenda Hamilton, Securities Attorney at 200 E. Palmetto Park Rd, Suite 103, Boca Raton, Florida, (561) 416-8956, by email [email protected] or visit www.securitieslawyer101.com.  This securities law blog post is provided as a general informational service to clients and friends of Hamilton & Associates Law Group and should not be construed as and does not constitute legal advice on any specific matter, nor does this message create an attorney-client relationship.  Please note that the prior results discussed herein do not guarantee similar outcomes.
Hamilton & Associates | Securities Lawyers
Brenda Hamilton, Securities Attorney
200 E. Palmetto Park, Suite 103
Boca Raton, Florida 33432
Telephone 561-416-8956
www.securitieslawyer101.com