SEC Charges Attorney Frederick Bauman with Participation in IIIegal, Unregistered Securities Offerings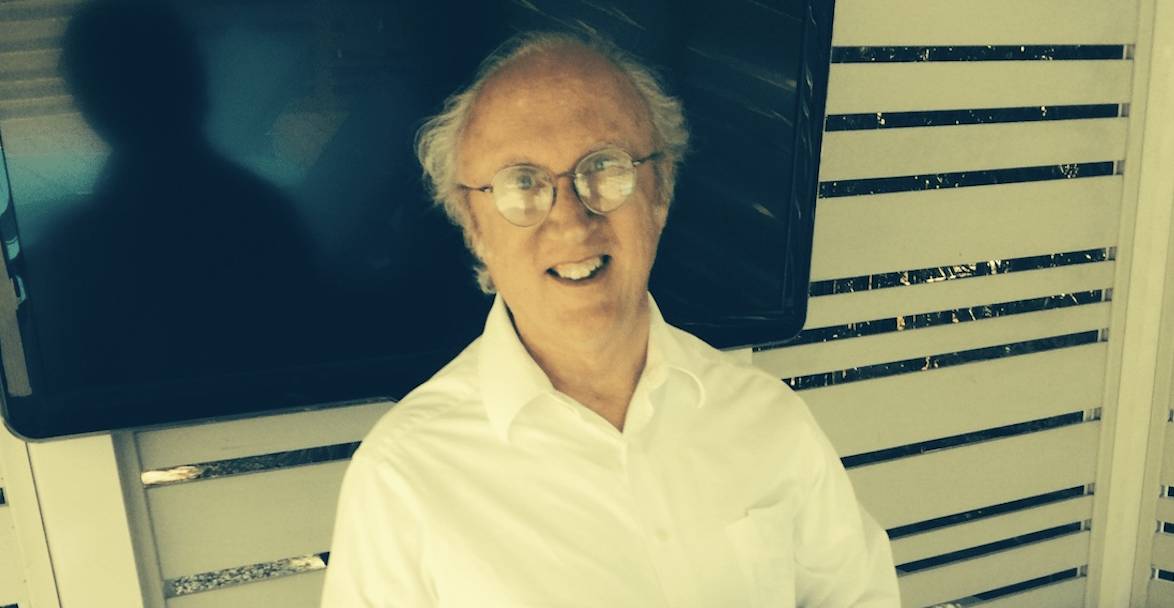 On September 8, 2021, the Securities and Exchange Commission (the "SEC") charged Nevada resident Frederick Bauman with playing a critical role as an attorney who facilitated the unregistered sale of millions of shares of securities by two groups engaged in securities fraud.
According to the SEC's complaint, between 2016 and August 2019, Bauman authored at least a dozen legal opinion letters falsely stating that certain shareholders were not affiliated with the public companies whose stock they held. The complaint alleges that, in reality, the public companies and shareholders were under common control, and the shareholders were, therefore, affiliates of the companies.
Stock held by an affiliate of a public company is restricted, and only small quantities of such stock can be legally offered or sold to the public without a securities registration statement in effect. A registration statement contains important information about a public company's business operations, financial condition, results of operation, risk factors, and management.
According to the complaint, Bauman provided the opinion letters to transfer agents. The transfer agents then allegedly relied on Bauman's false letters in treating shares of stock as unrestricted and recording transfers on that basis. The SEC alleges that Bauman's letters thus facilitated sales of millions of shares that could not legally be sold to the public without a registration statement.
The SEC complaint did not name the control groups that employed Bauman to provide the attorney letters (referring to them only as Person A and Person B), but it did break down four of the public companies that were victims of the scheme – EnviroTechnologies International, Inc (ETII), Biohemp International Inc (BKIT), then known as Blake Insomnia Therapeutics Inc, Cyberfort Software Inc (CYBF), and Sandy Steele Unlimited Inc (SSTU):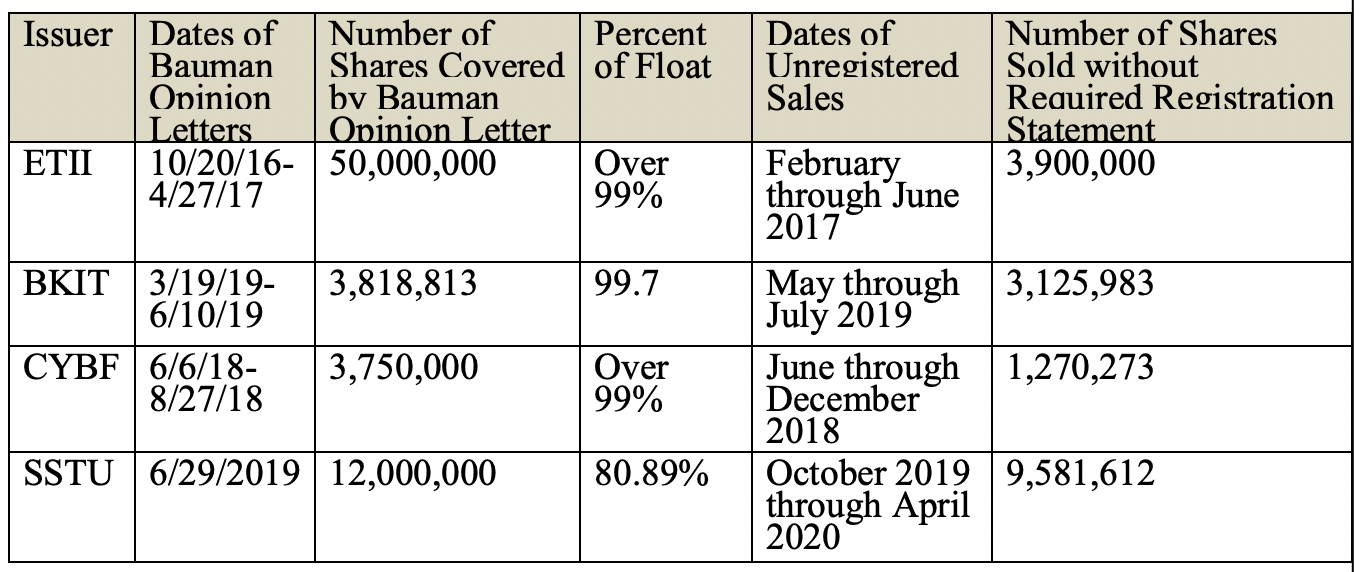 Those very same four issuers were the subject of SEC litigation and criminal complaints against several individuals over the past two years.
In June 2020, SEC litigation and criminal charges were brought against Shane Schmidt and others for using SSTU for a pump and dump scheme by creating a fictitious company president and fake business operations to facilitate the dumping of unregistered stock into the market.
In July 2019, SEC litigation and criminal charges were brought against Michael J Black and Garrett M O' Rouke for their roles in unregistered share selling schemes involving ETII and CYBF. Black and O'Rouke were also linked to BKIT.
The net has been cast wide on these issuers, with charges also being brought against money laundering groups (Roger Knox, Ulbik Debo, Kenneth Ciapala, Anthony Killarney, and others), boiler room operators and stock promoters (Ubong Uboh and Tyler Crockett), and now gatekeepers (Frederick Bauman).
Besides providing attorney letters, Bauman has also been very active in filing custodianship petitions over the past few years to take over abandoned shells that continue to trade publicly. He has represented several individuals in the Nevada court with dozens of custodianship petitions (Joseph Arcaro, Thomas DeNunzio, Jeffrey DeNunzio, Paul Moody) and has filed several petitions on behalf of his wife, Barbara Bauman.  Barbara is currently listed as the CEO of two of those custodianship shells, Bonanza Goldfields Corp (BONZ) and American Lithium Minerals, Inc (AMLM).
In the SEC suit, without admitting or denying the allegations, Bauman consented to the entry of a final judgment permanently enjoining him from future violations of the charged provisions. In addition, Bauman consented to a five-year penny stock bar and a five-year conduct-based injunction that restricts his ability to prepare opinion letters. Bauman agreed to pay a $60,000 civil penalty, $13,000 in disgorgement, and $1,653 in prejudgment interest. The settlement is subject to court approval.
Bauman is also likely to be added to the OTC Markets Group prohibited attorneys list.
---
For further information about this securities law blog post, please contact Brenda Hamilton, Securities Attorney at 101 Plaza Real S, Suite 202 N, Boca Raton, Florida, (561) 416-8956, by email [email protected] or visit www.securitieslawyer101.com.  This securities law blog post is provided as a general informational service to clients and friends of Hamilton & Associates Law Group and should not be construed as and does not constitute legal advice on any specific matter, nor does this message create an attorney-client relationship.  Please note that the prior results discussed herein do not guarantee similar outcomes.
Hamilton & Associates | Securities Lawyers
Brenda Hamilton, Securities Attorney
165 E, Palmetto Park, Second Floor
Boca Raton, Florida 33432
Telephone 561-416-8956