SEC Sues Carebourn Capital, L.P. and Its Managing Partner Chip Rice for Acting as an Unregistered Securities Dealer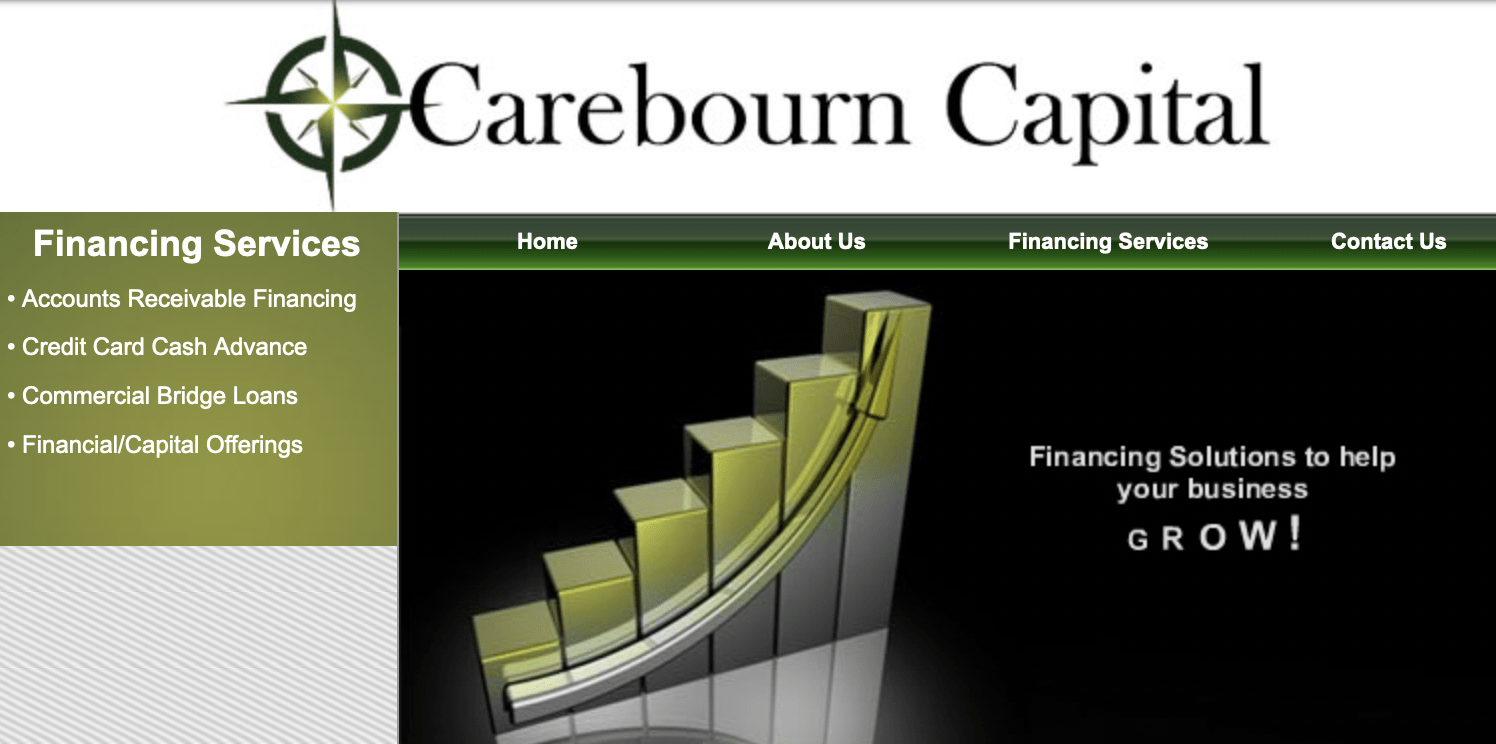 On September 24, 2021, the Securities and Exchange Commission ("SEC") charged Carebourn Capital, L.P. and its managing partner Chip Rice of Maple Grove, Minnesota, with acting as unregistered securities dealers in connection with their buying and selling of billions of newly-issued shares of microcap securities, or "penny stocks," which generated millions of dollars for Carebourn Capital and Rice. Also named as a relief defendant is another Rice-controlled entity, Carebourn Partners, LLC.
The SEC's complaint alleges that Rice and Carebourn Capital's business model was to buy convertible promissory notes – a type of security – from penny stock issuers, convert the notes into newly issued shares of stock, and quickly sell those shares into the public market at a profit.  The SEC further alleges that, since January 2017, Rice and Carebourn Capital purchased more than 100 such notes from approximately 40 different penny stock issuers. According to the SEC complaint, Rice and Carebourn Capital negotiated and received highly favorable terms for these notes, including terms that gave them deep discounts from the prevailing market price for the shares of counterparty penny stock issuers.
According to the SEC, by engaging in a regular business of buying convertible notes and then selling the resulting newly-issued shares of penny stock companies' stock into the public market, Rice and Carebourn Capital operated as unregistered securities dealers and collectively generated more than $25 million in gross stock sale proceeds and over $13 million in net profits, with many deals still outstanding.
The SEC's complaint, filed in the U.S. District Court for the District of Minnesota, alleges that Rice and Carebourn Capital violated the broker-dealer registration provisions of Section 15(a)(1) of the Securities Exchange Act of 1934. The complaint also alleges that Carebourn Partners, LLC received illicit proceeds from Rice and Carebourn Capital's violations. The SEC's complaint seeks injunctive relief, disgorgement and prejudgment interest, civil penalties, and a penny stock bar against Rice and Carebourn Capital.
The SEC Complaint did not name the 40 issuers used by Carebourn Capital and Rice for their unregistered broker-dealer activities but did provide details for four of the issuers, Bravtek Solutions Inc (BVTK), Growth Solutions Holdings (GRSO), Ozop Energy Solutions Inc (OZSC), and Fonu2 Inc (FONU) in the following chart: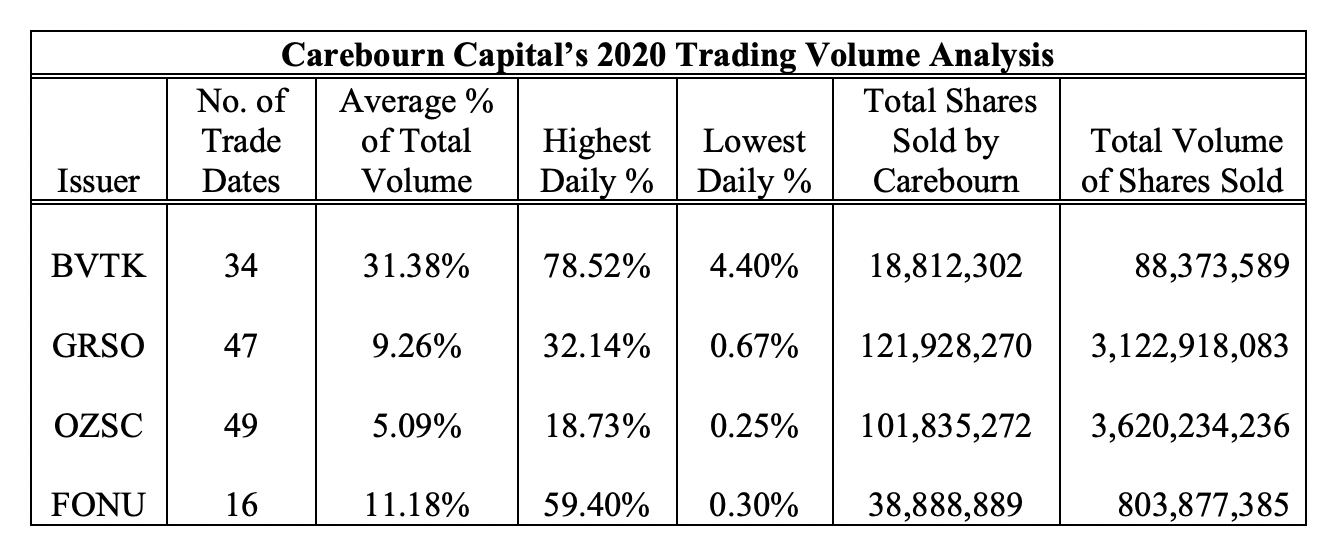 Other issuers we found that relied on financing from Carebourn Capital included: Optec International Inc (OPTI), Greenfield Farms Food Inc (fka GRAS), Dark Pulse Inc (DPLS), Advantego Corp (ADGO), Groove Botanicals Inc (GRVE), Ngen Technologies Holdings Corp (NGRP), Innerscope Hearing Technologies Inc (INND), Code Green Apparel Corp (CGAC), Resonate Blends Inc (KOAN), Bergio International Inc (BRGO), Rvue Holdings Inc (fka RVUE), The Staffing Group Ltd, PetVivo Holdings Inc (PETV), Zonzia Media Inc (ZONX), Wisdom Homes of America Inc (WOFA), Eventure Interactive Inc (EVTI), Powerstorm Holdings Inc (PSTO), Propanc Health Group Corp (PPCB), Dominovas Energy Corp (fka DNRG), Pazoo Inc (PZOO), Noho Inc (DRNK), FastFunds Financial Corp (fka FFFC), Monster Arts Inc (APPZ), Petron Energy II Inc (fka PEII), Fresh Promise Foods Inc (FPFI), Wowio Inc (WWIO), Revolutions Medical Corp (fka RMCP), Friendable Inc (FDBL), Labor Smart Inc (LTNC), Patten Energy Solutions Inc (PTTN), and AlumiFuel Power Corp (AFPW).
Our research further found that Chip Rice often acted in tandem with his brother, Logan Rice, who operates through Booski Consulting LLC and BlackOaks Capital LP, and his close friend, Michael Wruck, who operates through More Capital Partners LP (aka More Capital LLC), often transferring debts and shares between entities and investing in the same issuers. The entities also all used the same legal counsel.
Both Chip Rice and Michael Wruck were formerly registered as broker-dealers and even worked together from 1994 – 2002 at two Minnesota-based firms, Miller Johnson Steichen Kinnard, Inc and Feltl & Company.  As former broker-dealers, they should have been well aware that the type of activity they were involved in violated the broker-dealer registration provisions of Section 15(a)(1) of the Securities Exchange Act of 1934. And even if they didn't, their securities attorney should have made them aware of their violations. 
Prior to bringing the enforcement action against Carebourn Capital and Rice, the SEC went through a lengthy legal procedure to compel the above-mentioned Rice and Wruck entities to comply with SEC subpoenas as part of their investigation. 
The subpoenas specifically asked for: (1) emails between Carebourn Capital and a detailed list of representatives of certain issuers and other convertible debt financiers; (2) emails between Logan Rice and Chip Rice; and (3) emails between More Capital and Carebourn Capital.
The SEC Means Business
The SEC action is the latest in a series of actions against toxic lenders engaged in unregistered broker-dealer activity by regularly buying convertible notes from penny stocks issuers.
And in the middle of these actions, on August 17, 2020, the SEC won a summary judgment against Ibrahim Almagarby and his company, Microcap Equity Group, LLC, which sets the precedence for all future actions against toxic lenders.
Final Words
The SEC has made it clear that regular toxic financing activities without proper registration violate the broker-dealer registration provisions of Section 15(a)(1) of the Securities Exchange Act of 1934. Furthermore, this type of funding damages issuers and their shareholders and often include stock promotions, stock scalping, stock manipulation, and kickback schemes.
If you are an issuer or investor who is a victim of a toxic convertible note lender, please contact Hamilton & Associates Law Group LP at (561) 416-8956 or by email [email protected].
For further information about this securities law blog post, please contact Brenda Hamilton, Securities Attorney at 200 E. Palmetto Park Rd, Suite 103, Boca Raton, Florida, (561) 416-8956, by email [email protected] or visit www.securitieslawyer101.com.  This securities law blog post is provided as a general informational service to clients and friends of Hamilton & Associates Law Group and should not be construed as and does not constitute legal advice on any specific matter, nor does this message create an attorney-client relationship.  Please note that the prior results discussed herein do not guarantee similar outcomes.
Hamilton & Associates | Securities Lawyers
Brenda Hamilton, Securities Attorney
200 E. Palmetto Park, Suite 103
Boca Raton, Florida 33432
Telephone 561-416-8956