SEC Suspends Trading in Enerkon Solar International Inc (ENKS)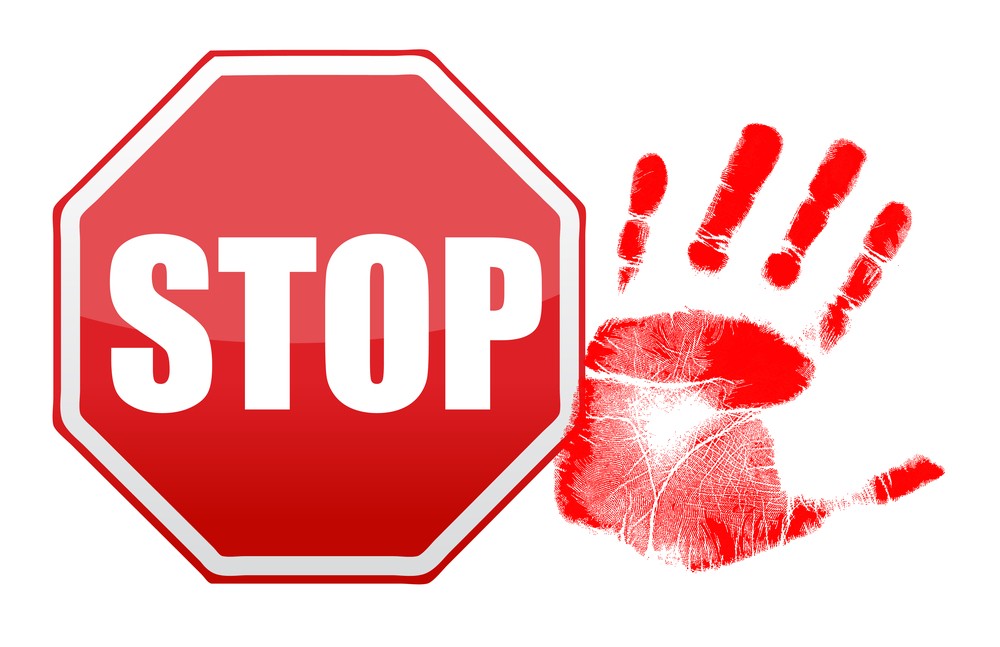 On Wednesday, June 23rd, the Securities and Exchange Commission (the "SEC") suspended trading in Enerkon Solar International Inc (ENKS).
The Suspension Order cited multiple public interest concerns. Specifically, the lack of adequate and accurate information in Enerkon's quarterly and annual financials submitted to OTC Markets from December 31, 2018, through March 31, 2021, relating to the identity of significant owners of Enerkon's securities.
The SEC also had questions about the accuracy and adequacy of publicly disseminated information in press releases, including recent ones from March and May, concerning, among other things, Enerkon's acquisition of CoviKlear Holdings International.
"The Commission temporarily suspended trading in the securities of ENKS due to, among other things, lack of adequate and accurate information in Enerkon's quarterly and annual financials submitted to OTC Link, whose parent company is OTC Markets Group, Inc. ("OTC Link"), as early as December 31, 2018, through Enerkon's quarterly financials for March 31, 2021, submitted on June 3, 2021, relating to the identity of significant owners of Enerkon's securities. Questions have also arisen about the accuracy and adequacy of publicly disseminated information in press releases, including press releases dated March 9, 2021, May 3, 2021, and May 11, 2021, concerning, among other things, Enerkon's acquisition of CoviKlear Holdings International and its prospective operations, and the establishment of a solar and hydrogen plant in Pennsylvania."
Back on March 24, 2021, RadioFreeEurope published a detailed article highlighting concerns about the accuracy of publicly disseminated information by Enerkon in relation to two big Urkaine projects. Our firm participated in the article by analyzing the information. 
Red Flags highlighted in the article included:
The lack of coverage by the Ukrainian press about the purported $2 billion deal between Enerkon and the Ukrainian government for a massive solar-energy power project near Chernobyl and the development of a nationwide next-generation wireless technology network.

Enerkon's purported Chernobyl solar project would be nearly 40 percent larger than the 2.2 GW solar plant completed last year in China's remote Qinghai Province, making it by far the world's biggest.

Inconsistencies between the applications submitted to the U.S. Justice Department's Foreign Agents Registration by Enerkon and those shared with investors.

Misleading statements made by Enerkon's CEO, Benjamin Ballout, about Enerkon's associations with major companies, including Cisco Systems, Nokia, Erickson, and SpaceX.

A written statement sent to RadioFreeEurope signed by the deputy prime minister, Oleh Uruskiy, stated that Uruskiy had "no information" about any cooperation between the Ukrainian government and Enerkon.

An official statement made to RadioFreeEurope by the deputy prime minister's office denied that Uruskiy had signed any memorandums of understanding with Ballout or Enerkon and denied that Ballout would set up any meetings in the United States for Uruskiy.

A statement made to RadioFreeEurope by Marcelina Joel, the director of legal affairs at Mozambique's Ministry of Mineral Resources and Energy, denies any knowledge of Enerkon's purported 500-megawatt development in Mozambique, which would likely be the African nation's largest.

The financial statements submitted to OTC Markets for Enerkon showing $40 million in annual revenues were prepared by the CEO, Benjamin Ballout, instead of a qualified accountant. 

Enerkon's website is poorly constructed and not representative of a company with millions in purported revenues. 

Enerkon claims to be involved in multiple solar projects worldwide as well as multiple other ventures ranging from COVID-19 treatments to non-lethal stun guns to 5G networking to Electric Vehicles yet the company is registered to a modest house in Florida rather than an office building. 
While reviewing information about Enerkon for the RadioFreeEurope article, we conducted some of our own in-depth research. We found numerous concerns about the individuals involved in Enerkon as shareholders, including Thomas Collins and Patrick Thomas, who were recently indicted on December 13, 2020, for using  Global Resource Energy Inc ("GBEN") as a share selling/stock manipulation scheme while secretly controlling stock through corporate egos and nominees. 
We wrote extensively about the GBEN share selling scheme soon after the indictment.
According to that Indictment, from around February 2014 through August 18, 2020, Thomas Collins (husband of the GBEN CEO, Cathy Collins), Patrick Thomas, and the other seven defendants conspired with others, known and unknown, to defraud investors and potential investors of GBEN by issuing millions of shares to themselves at little to no cost, including using convertible notes issued to themselves and nominees to conceal their ownership, then controlled the price and volume of shares through a pump and dump/stock manipulation scheme involving match trading and "painting the tape" to artificially inflate the price of GBEN, paying kickbacks and undisclosed commissions to unregistered brokers to solicit investors to purchase the GBEN shares from the defendants.
Through our research, we determined that Cathy Collins, Thomas Collins, and Patrick Thomas have been acting as secret control people of a substantial amount of Enerkon stock through corporate egos and nominees amounting to over 20% of the outstanding stock, mostly obtained through the conversion of debt created when Benjamin Ballout acquired control of the Enerkon shell. 
Some Background
Enerkon Solar International Inc (ENKS) was formerly known as Castle Holding Corp (CHOD).
The CEO at this time was John V Cappello.
In January of 2018, Cappello changed the name/symbol of the Issuer to Enerkon Solar International Inc (ENKS) in anticipation of the upcoming merger with a purported Solar Energy company based out of Florida. The Issuer had 47,003,510 shares outstanding at this time.
On February 8, 2018, Capello sold 22,250,000 common shares and his preferred control stock to Benjamin Bailout for $65,000.
According to the merger agreement, on February 8, 2018, 1,500,000 newly created shares were also issued by Enerkon to acquire Enerkon Solar International Inc, a Florida business entity. As the sole officer/director of Enerkon Solar International Inc (Florida), Ballout also got those shares.
Soon after, Bailout claimed to find 4,179,000 shares that were supposed to be canceled in the past but weren't, bringing the outstanding share count to 51,182,510 post-merger.
As part of the merger, $15,000 in debt from 2015 owed to the former CEO, John V Cappello, along with $8,750 in purported interest accumulated on the debt was transferred to Cathy Collins (former CEO of GBEN) and Vasthy Avila, then turned into a convertible Note, convertible at $.0025/share.
A few months later, in October 2018, that $23,750 debt was converted into free trading Enerkon common stock, with Collins receiving  4,750,000 unrestricted shares and Avila receiving 4,678,000 unrestricted shares for a grand total of 9,428,000 shares.
Following the transaction, 1,000,000 shares were also issued to Excelsior Consulting (Jeff Greene) for "professional services," and 4,000,000 shares were issued to Streamworx LLC (Jon Baker) for "media services."
A breakdown of the shares issued by Enerkon during October 2018 and November 2018 can be found in the Enerkon disclosure statements filed through OTC Markets (copied below):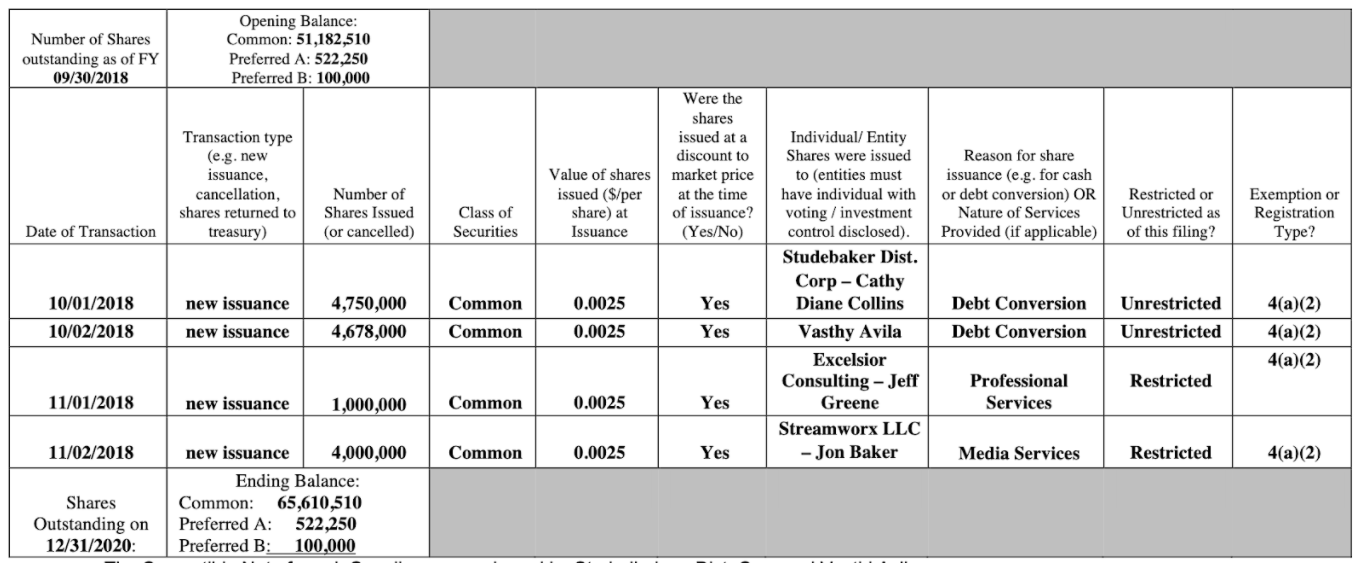 Cathy Collins, Vasthy Avila, and Streamworx LLC all tie back to the GBEN share selling scheme.
Cathy Collins was the CEO of GBEN.

Vasthy Avila was listed as the representative for several debt Notes in GBEN under a Wyoming entity named Avila P&H LLC.

Streamworx LLC received a large block of GBEN stock for services.
According to the GBEN Indictment, Avila P&H LLC was really controlled by Cathy Collin's husband, Thomas Collins, but was signed for by a nominee (which, according to GBEN filings, was Vasthy Avila).

This information is significant because any shareholder or group of associated shareholders owning more than 10% of the outstanding stock in an Issuer is restricted from trading their stock.
With a current outstanding share count of 65,610,510, those 9,428,000 combined unrestricted shares held by Cathy Collins and her husband, Thomas Collins (through Avila P&H LLC), would amount to 14% of the outstanding shares, and, therefore, should be restricted. 
The GBEN Indictment also mentioned Streamworx LLC as being a nominee entity: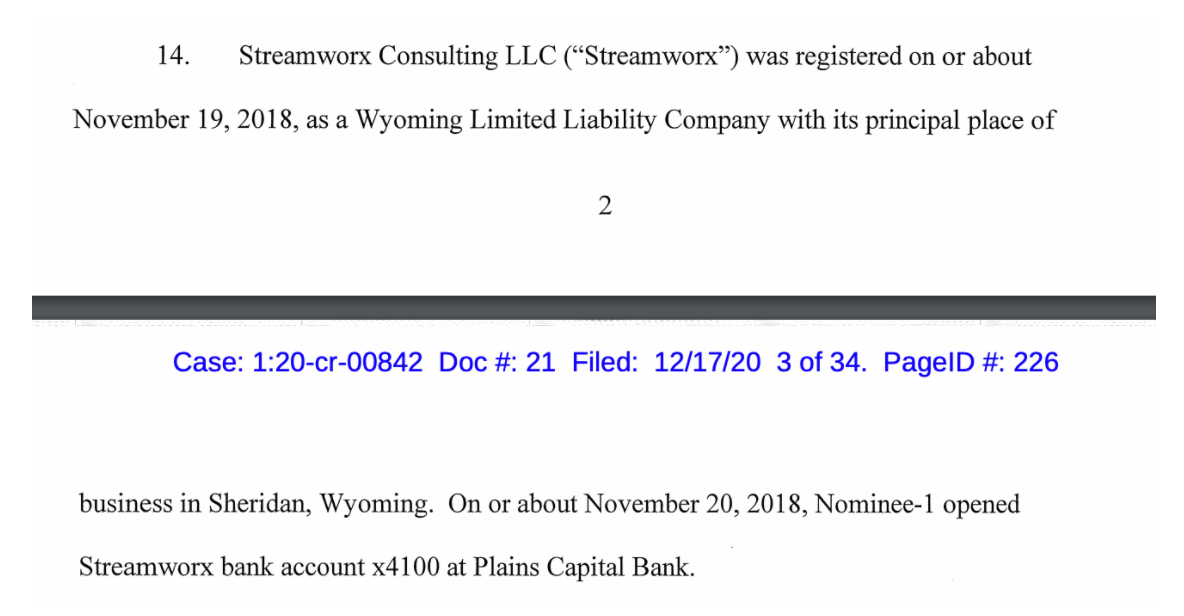 Additional text from the Indictment suggests that Patrick Thomas controls Streamworx Consulting LLC and used Streamworx's bank account to transfer money from share sales to Avila P&H (Thomas Collins).

So Streamworx Consulting LLC is controlled by Thomas Collins.
Further research shows that the link to Vasthy Avila is even closer than the regulators acknowledged in their limitation.
Vasthy Avila is the wife of Patrick Thomas. She was/is using her maiden name on her Mexican ID to hide her current last name which is now registered as Vasthy Thomas in the US. 
Combine Thomas's 4,000,000 shares with the 9,428,000 owned by the Collins family, and the GBEN stock manipulation group, now under federal indictment, collectively owns more than 20% of the Enerkon shares, making them a control group. Or, in this case, a secret control group since they hide their identities and affiliations to one another in the Enerkon filings. 
We believe that despite the indictment against Thomas Collins and Patrick Thomas, the group may have still participated in a pump and dump of the Enerkon stock starting days after the Indictment in late December of 2020, including participating in numerous false and misleading press releases and other public statements meant to artificially inflate the Enerkon share price while the group was selling stock into the market.
Enerkon saw its first significant volume in late December, days after the GBEN indictment, with the stock action peaking in February 2021.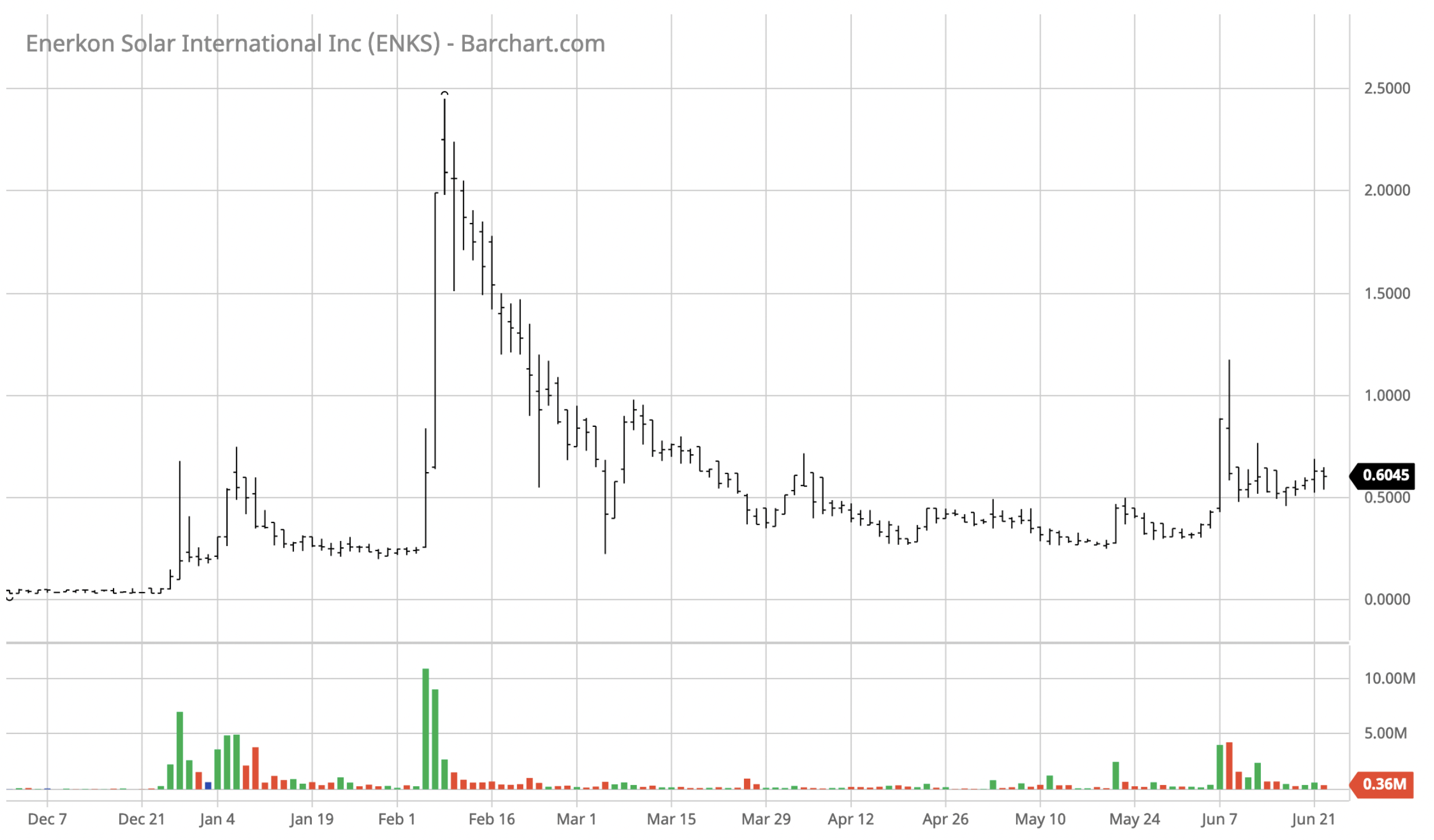 Since our research, our firm has been contacted by victims of the GBEN share selling scheme claiming that the same individuals that solicited them to purchase GBEN shares through boiler room calls also solicited them to purchase shares of Enerkon, supporting our findings.
The criminal case against Thomas Collins and Patrick Thomas is still open and quickly nearing either a plea agreement or a trial.  It will be interesting to see if the recent developments involving Enerkon have any effect on that case. 
As for Enerkon, the CEO, Benjamin Ballout, issued the following misleading statement about the SEC suspension:
"We are working closely with the SEC to supply all of the exhibits needed to validate the items mentioned in order to have the Temp. suspension lifted as soon as possible and while the suspension is set to be lifted at 1159 Pm on July 7th as stated by the SEC – we may ask for an earlier lifting of the suspension when they have had time to go through the validation items that we are providing today and tomorrow, until they are satisfied that they have sufficient information and have had time to check it as valid and qualifying for the temp. trade suspension to be lifted earlier if possible.
ENKS is confident that once all the information is submitted the Temp. Trade suspension will be lifted on time as stated and possibly beforehand if we are able to satisfy the compliance and enforcement staff in the SEC information Review."
This statement is entirely false. All SEC suspensions last for exactly 10 trading days. Then all suspended issuers resume trading on the grey sheets without quotations. Learn more about SEC suspensions in our recent blog post "The SEC Just Suspended My Stock! Now What?".
---
For further information about this securities law blog post, please contact Brenda Hamilton, Securities Attorney at 101 Plaza Real S, Suite 202 N, Boca Raton, Florida, (561) 416-8956, by email [email protected] or visit www.securitieslawyer101.com.  This securities law blog post is provided as a general informational service to clients and friends of Hamilton & Associates Law Group and should not be construed as, and does not constitute legal advice on any specific matter, nor does this message create an attorney-client relationship.  Please note that the prior results discussed herein do not guarantee similar outcomes.
Hamilton & Associates | Securities Lawyers
Brenda Hamilton, Securities Attorney
101 Plaza Real South, Suite 202 North
Boca Raton, Florida 33432
Telephone: (561) 416-8956
Facsimile: (561) 416-2855