SEC Charges 15 Individuals in a $194 Million International Penny Stock Fraud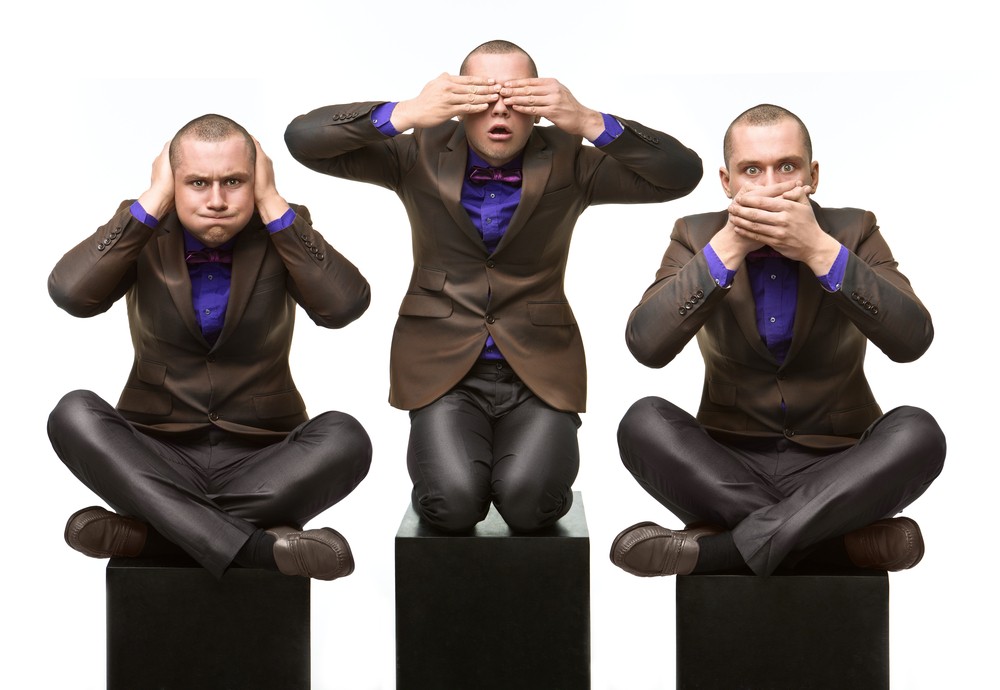 The Securities and Exchange Commission announced charges against 16 defendants, located in the Bahamas, the British Virgin Islands, Bulgaria, Canada, the Cayman Islands, Monaco, Spain, Turkey, and the United Kingdom, for participating in multi-year fraudulent penny stock schemes that generated more than $194 million in illicit proceeds.
The SEC investigations leading to these charges involved assistance from securities regulators and other law enforcement authorities in more than 20 countries and are associated, in part, with parallel criminal actions announced by the United States Attorney's Office for the Southern District of New York.
In case number one, first announced on April 14, 2022, the SEC charged eight individuals for participating in a long-running fraudulent scheme that generated over $145 million from unlawful sales of at least 17 penny stocks, causing significant harm to retail investors in the United States and around the world.
According to the SEC's complaint, UK-resident Ronald Bauer and his associates, Craig James Auringer, Adam Christopher Kambeitz, Alon Friedlander, Massimiliano ("Max") Pozzoni, Daniel Mark Ferris, Petar Dmitrov Mihaylov, and David Sidoo – all of whom reside outside the U.S. – engaged in a complex scheme spanning from at least 2006 to 2020 to fraudulently unload on unsuspecting retail investors the respective defendants' significant shareholdings of at least 17 microcap stocks quoted on U.S. markets. 
Prior to engaging in the scheme, Bauer and Mihaylov had each, by consent, been permanently enjoined from such conduct in Commission penny stock fraud enforcement actions against them.
According to the SEC complaint, the defendant's first step in the scheme was to identify a shell company issuer and gain control both of its management and of its purportedly free trading stock.  In some cases, the defendants secretly controlled all the free trading stock registered as part of the shell's S-1 registration statement, using nominees and various foreign entities to hide their ownership.
The defendants then allegedly coordinated and funded misleading promotional campaigns, surreptitiously unloaded massive quantities of each stock into the very price and demand rises triggered by those campaigns, and directed their illicit proceeds from those illegal sales through multiple networks of offshore shell companies and financial accounts.
According to the complaint, the defendants, over time, operated in various combinations and played varying roles. The public issuers named in the Complaint included Black Stallion Oil and Gas Inc, PetroTerra Corp, Virtus Oil & Gas Corp, Gray Fox Petroleum Corp, Bison Petroleum Corp, Lone Star Gold Inc, True North Energy Corp, North American Oil & Gas Corp, American Helium Inc, Cantabio Pharmaceuticals Inc, Steampunk Wizards Inc., Polar Petroleum Corp, Patriot Berry Farms Inc., Black River Petroleum Corp, Cyberfort Software Inc., Lifelogger Technologies Corp., Blue Eagle Lithium Inc.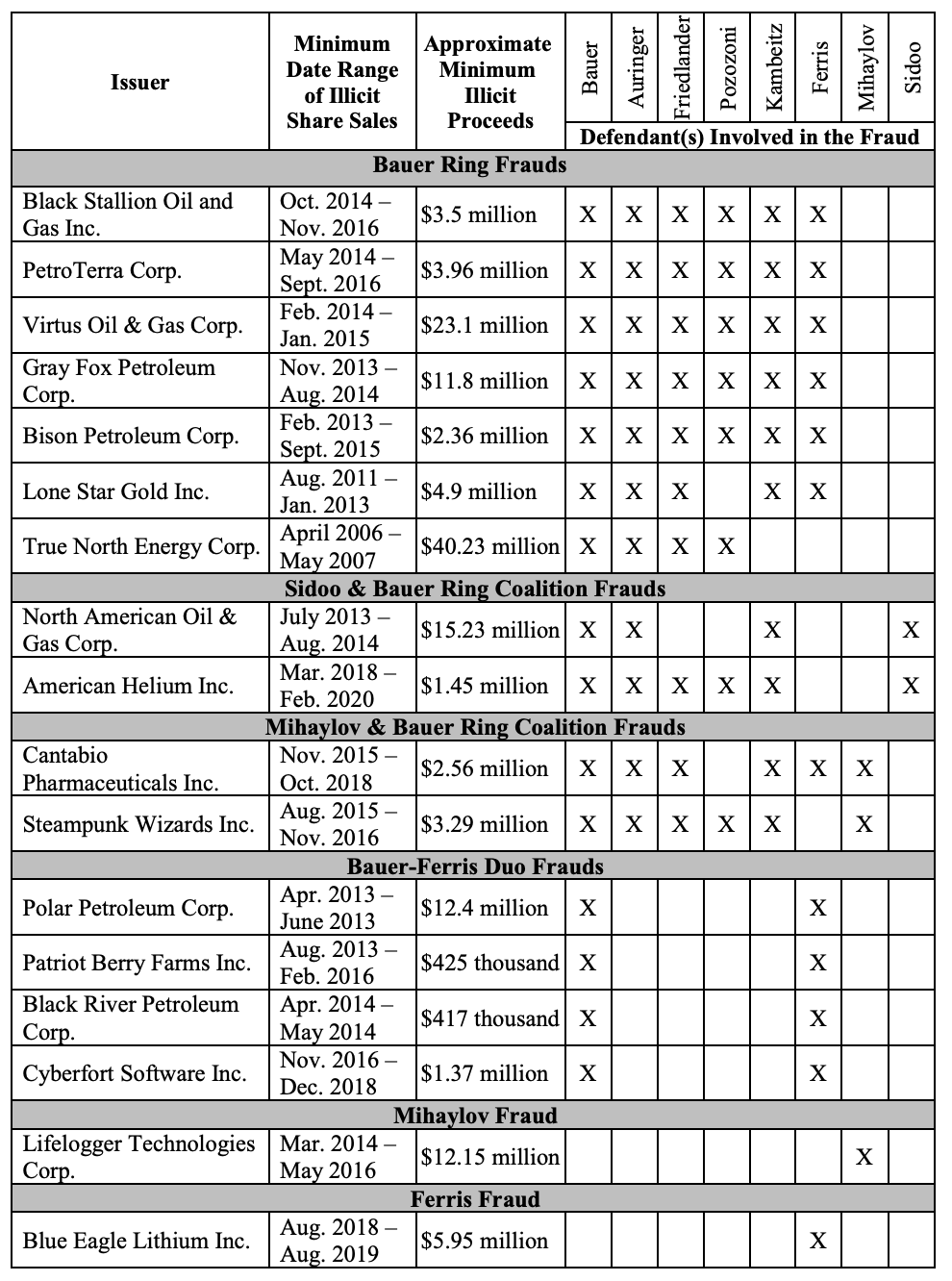 The defendants, in the execution of these schemes, often relied on the services of offshore financial firms, typically Swiss-based, to conceal their control of shares and their collective activities with respect to each Issuer. They also used front companies and omnibus vehicles administered by the offshore financial firms to help them commit their fraud. Through such means, the defendants hid their coordinated efforts from gatekeepers (transfer agents and brokers) who otherwise would have treated their shares as restricted stock, which could not have been freely purchased, sold or transferred in the retail market. Defendants also flouted their affirmative obligations under the federal securities laws, as controlling shareholders, to report their holdings, trading, and agreements as to the same and, by so doing, hid their coordinated efforts from investors.
One of the trading platforms used by the Bauer group was Blacklight SA, which was named in SEC litigation on January 2, 2020, along with its principal operator, Kenneth Ciapala. Ciapala and Blacklight were also Indicted in 2019. Ciapala appears to be cooperating based on the dozens of sealed documents in the case since April 2021. 
Blacklight SA was also named as a participant in both of the other two new SEC cases.
In case number two, the SEC filed charges against Dean Shah and Henry Clarke, residents of Spain, and Julius Csurgo, a resident of Canada.
According to that SEC complaint, Shah, Clarke, and Csurgo secretly gained control of a thinly-traded microcap company, Zenosense Inc, hired stock promoters to generate demand for the company's stock, and profited by illegally dumping their shares into the public securities markets. 
The SEC's complaint alleges that, between 2013 and 2018, Shah and Clarke concealed their control of Zenosense by deceptive means, including by dispersing the shares they owned among various nominee accounts. Shah and Clarke allegedly partnered with Csurgo to promote Zenosense's stock to increase the proceeds from their illegal sales.
According to the complaint, Csurgo also engaged in fraud in connection with selling stock of Envoy Group Corp, EnviroTechnologies International, Inc., and Drone Guarder, Inc, including by parking his shares in others' accounts to conceal his ownership of the stock and using fabricated documents to induce third parties such as transfer agents and brokerage firms to facilitate his stock sales. The defendants allegedly generated proceeds of over $18 million from their unlawful conduct.
The SEC claims that Shah and Clarke were clients of Frederick Sharp, who was in the business of facilitating illegal stock sales in the public securities markets. Sharp concealed the identities of his clients like Shah and Clarke by offering an array of services, including forming and providing offshore nominee companies that could hold shares for undisclosed control persons; and providing and administering an encrypted communication network. It was through Sharp's services that shares were moved into Blacklight SA and Wintercap SA.
In case number three, the SEC filed charges against Domenic Calabrigo, Curtis (Curt) Lehner, Hasan Sario, and Courtney Vasseur alleging that from early 2016 through late 2018, some or all of the defendants manipulated the stocks of at least nine microcap issuers, generating proceeds of $39.6 million.
The nine issuers included Blake Therapeutics Inc (BKIT), Drone Guarder Inc (DRNG), Horizon Minerals Corp (HZNM), I-Wellness Marketing Group Inc (IWMG) (formally known as Monarchy Ventures Inc), Oroplata Resources Inc (ORRP), Preston Corp (PSNP), Vilacto Bio Inc (VIBI), and Zenosense Inc (ZENO).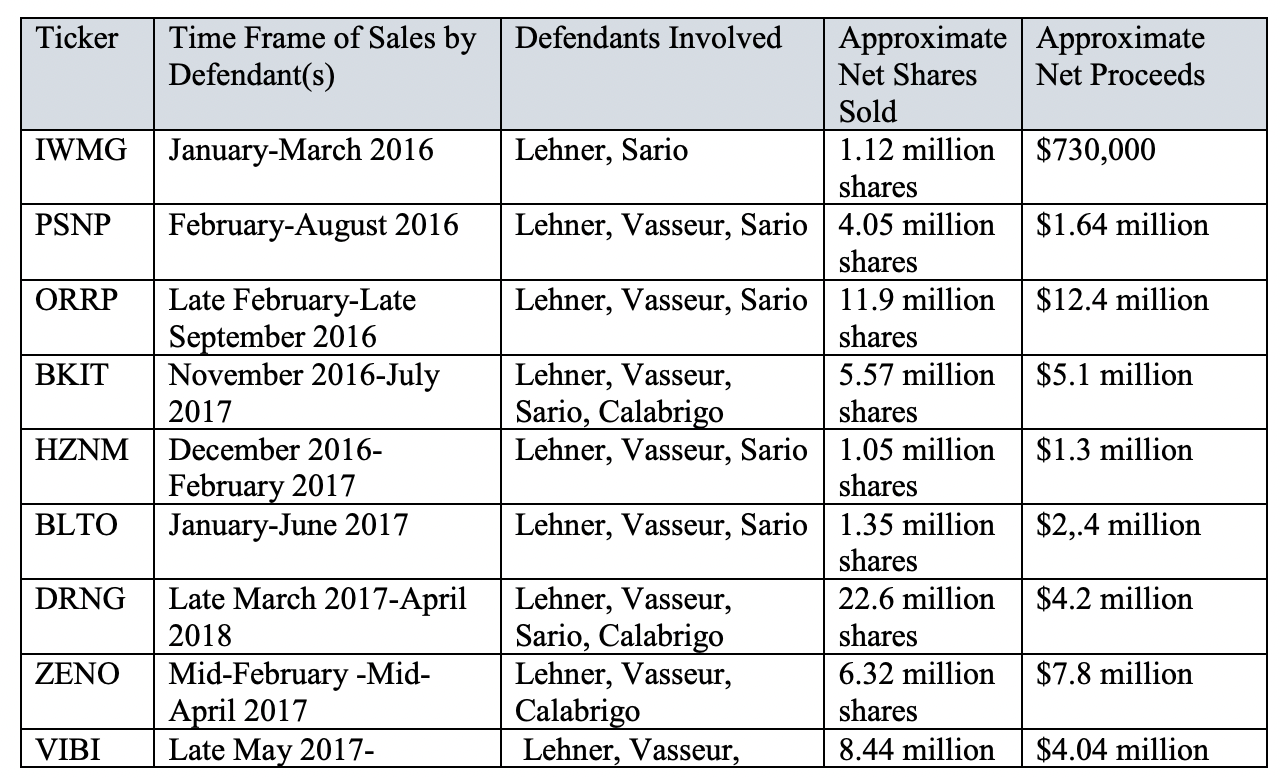 Once again, Blacklight SA, Wintercap SA, and Frederick Sharp were named as primary facilitators of the scheme.
Wintercap SA and its principal, Roger Knox, were named in SEC litigation on October 3, 2018. Wintercap and Knox were also criminally charged.
Frederick Sharp was named in SEC litigation on August 5, 2021.

In addition to the recent SEC complaints, the DOJ also filed a series of criminal complaints against ten of the SEC defendants:
United States of America vs Julius Csurgo and Anthony Korculanic
United States of America vs Curtis William Lehner, Courtney Vasseur, Hasan Sario, Dominic Calabrigo
United States of America vs Ronald Bauer, Craig Auringer, Petar Mihaylov, Daniel Ferris
The new rounds of litigation are just the latest in a string of SEC and DOJ actions against stock promoters and insiders involved in running pump & dumps on penny stocks facilitated using the same offshore money laundering groups.
See:
Undercover Sting Takes Down Francis Biller, Raymond Dove, and Chester Alvarez in Boiler Room Scheme
More Individuals Charged in Billion Dollar Penny Stock Pump and Dump/Money Laundering Operation
SEC Charges Ubong Uboh and Tyler Crockett for Using a Call Room to Manipulate Stocks
SEC Charges Attorney Frederick Bauman with Participation in IIIegal, Unregistered Securities Offerings
---
For further information about this securities law blog post, please contact Brenda Hamilton, Securities Attorney, at 200 E. Palmetto Park Rd, Suite 103, Boca Raton, Florida, (561) 416-8956, by email [email protected] or visit www.securitieslawyer101.com.  This securities law blog post is provided as a general informational service to clients and friends of Hamilton & Associates Law Group and should not be construed as and does not constitute legal advice on any specific matter, nor does this message create an attorney-client relationship.  Please note that the prior results discussed herein do not guarantee similar outcomes.
Hamilton & Associates | Securities Lawyers
Brenda Hamilton, Securities Attorney
200 E. Palmetto Park, Suite 103
Boca Raton, Florida 33432